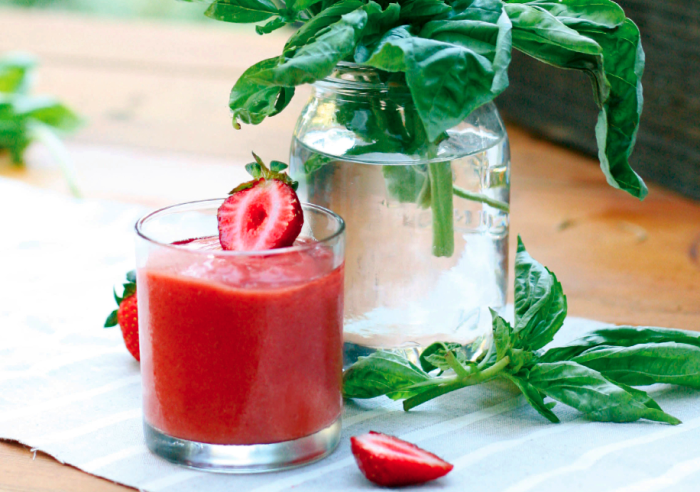 Just because we know the formula for a smoothie is fruit + ice + something doesn't mean we get it right all the time. Thankfully there's Superfood Smoothies, the cookbook to show us the way to healthy frozen nirvana. Sweet strawberries and grassy basil are our new favorite combination.
Basil gives strawberries a lightly floral accent, but that's not the real secret here. Instead, say hello to tomatoes! Strawberries and tomatoes share many of the same flavor notes, which is why incorporating the lycopene-rich beauties in this blend is a seamless addition.
Ingredients
2

cups

frozen strawberries

1 1/2

cups

cherry tomatoes

1/4

cup

dried goji berries

2

tablespoons

mashed avocado

2

tablespoons

freshly squeezed lime juice

1

tablespoon

(packed) minced fresh basil

1

cup

coconut water

sweetener, to taste
Directions
Blend all the ingredients together until smooth. Taste, and sweeten if desired.
Superfood boost: Add 1 teaspoon maqui berry powder.
More smoothie recipes on Food Republic: