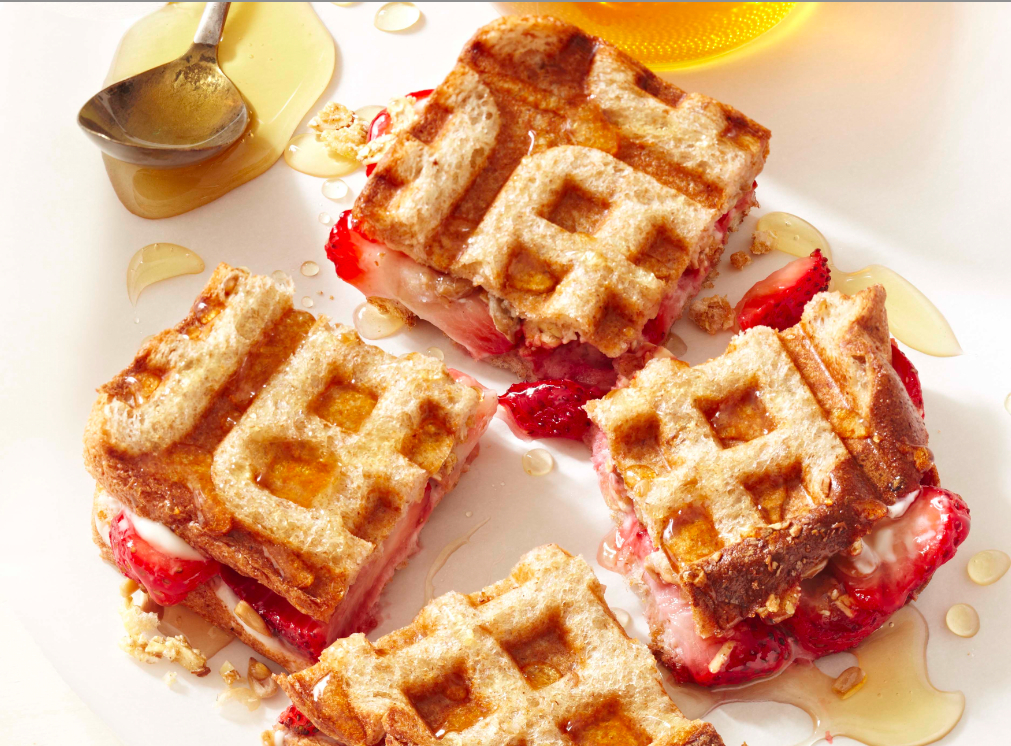 Ordinarily we'd pass the "quick and healthy" cookbook section in lieu of something with more cheese, but if you're going to cook light, better take a page out of Better Homes and Gardens. These strawberry and cream cheese sandwiches pressed in a waffle iron are as attractive to behold as they are delicious. Don't worry, real waffles aren't going anywhere. We're just using their facilities.
Reprinted with permission from Better Homes And Gardens The Ultimate Quick & Healthy Book
Ingredients
1/3

cup

light cream cheese, softened

4

teaspoons

honey

8

slices

whole grain sandwich bread

1 1/2

cups

fresh strawberries, sliced

1/4

cup

low fat granola

2

teaspoons

sunflower kernels, salted and roasted

nonstick cooking spray

honey (optional)
Directions
In a small bowl, stir together cream cheese and the 4 teaspoons honey.
Spread one side of the bread slices with cream cheese mixture.
Top four of the bread slices with strawberries, granola and sunflower kernels.
Top with the remaining four bread slices, spread sides down.
Coat a waffle maker with cooking spray; heat according to the manufacturer's directions.
Cook sandwiches, one at a time, in waffle baker about 2 minutes or until golden.
When done, use a fork to lift sandwich off grid.
Cut sandwiches into halves or quarters.
If desired, serve with additional honey.
Find more strawberry breakfast ideas on Food Republic: