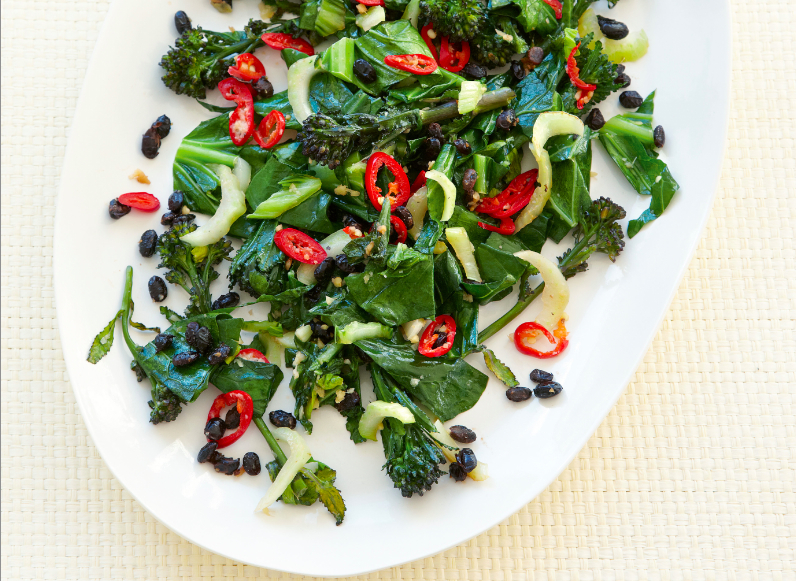 Extend spring cleaning past the closet and do something good for your body with culinary authority Jenny Chandler. Her latest book, The Better Bean Cookbook, extols the virtues of vegetarian, protein-packed legumes and offers a world of ways to prepare them. Just like anything fermented, Chinese black bean sauce adds a tangy savory punch to healthy greens.
These greens are spectacularly good and have such a depth of savory umami flavour that I could happily dive into a pile with some boiled white rice and call it a day. However, the combination of this stir-fry with roast belly pork, Chinese-style pork spare ribs or the more authentic cha siu (sticky sweet roast pork), if you happen to live near Chinatown, is out of this world. You could stir in some marinated and fried tofu for a delicious vegetarian alternative.
Ingredients
9

ounces

bok choy, spring greens or purple sprouting broccoli

2

tablespoons

vegetable oil

2

garlic cloves, sliced

1

tablespoon

grated fresh ginger

1-2

fresh red chilies, sliced finely, seeds in or out

1

tablespoon

fermented black beans, rinsed and drained

1-2

teaspoons

light soy sauce

1

teaspoon

sugar (optional)
Directions
Quarter the bok choy, slice the spring greens or trim and divide the purple sprouting broccoli. Bring a pan of water to a boil and cook the vegetables for a couple of minutes, until just tender. Refresh in cold water and then drain.
Heat the oil in a wok or large pan. Stir-fry the garlic, ginger and chili until you're enveloped in wonderful smells – a matter of seconds, as you must not burn the garlic.
Throw in the black beans and greens and stir-fry over a high heat for a couple of minutes, adding a tablespoon of water if the pan gets dry. Taste and season with soy sauce and sugar if needed. Serve at once.
Try out these vegetarian recipes on Food Republic: