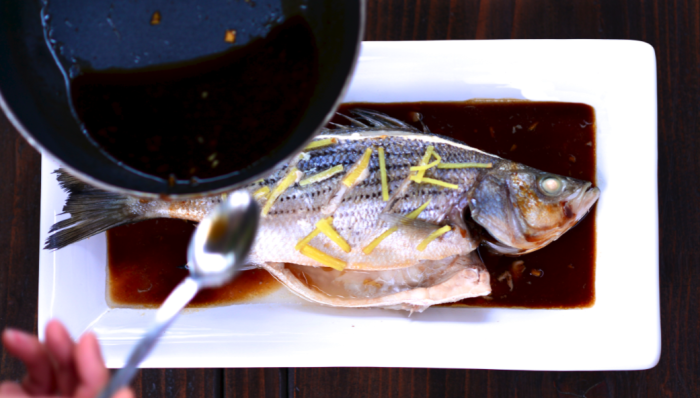 Gung Hay Fat Choy! Happy New Year! To celebrate the coming of the New Year, the Chinese prepare certain foods because they have a specific meaning. Whole fish symbolizes togetherness and abundance and is a very important New Year's food; the green onions that top the fish are a sign of brilliance. There are rules to preparing whole fish. Always keep the fish intact while cooking and never turn it over. To serve, filet the upper portion of the fish, cutting horizontally along the bone. Cut the bone at the neck, and then peel it back to remove it and reach the bottom portion of the fish.
This is a classic Chinese steamed fish recipe. Serve the poached fish with warm steamed rice, which symbolizes wealth and prosperity. A sweet conclusion to your Chinese New Year meal would be tangerines to guarantee you abundant happiness for the year to come.
Ingredients
1

2-3 pound

rockfish, whole with scales, gills and intestines removed

1 1/2

teaspoons

salt

1/2

teaspoon

white pepper

1/2

teaspoon

sugar

4

Chinese black mushrooms, soaked in warm water for 20 minutes

1 1/2

teaspoons

garlic, minced

3

tablespoons

ginger, finely minced

1

tablespoon

Shao Shing rice cooking wine

2

tablespoons

thin soy sauce

1

tablespoon

sesame oil

1

tablespoon

cooking oil

2

green onions, finely shredded

cilantro, to garnish
Directions
Rinse the fish with cold water and pat dry inside and out. Season the fish with salt, pepper and sugar inside and out.
Place the fish within a large oval heatproof dish. Evenly sprinkle mushroom, garlic and ginger.
Combine 1 to 2 tablespoons of the reserved mushroom soaking water with rice wine and thin soy sauce. Drizzle over the fish.
Steam at high for about 10 minutes or until cooked through. The fish should flake off the bone.
Combine oils in a small saucepan and heat to high for about 2 minutes or until almost smoking. Drizzle hot oil over the fish, it will crackle.
Top the fish with shredded green onion and cilantro.
Check out these grilled fish recipes on Food Republic: