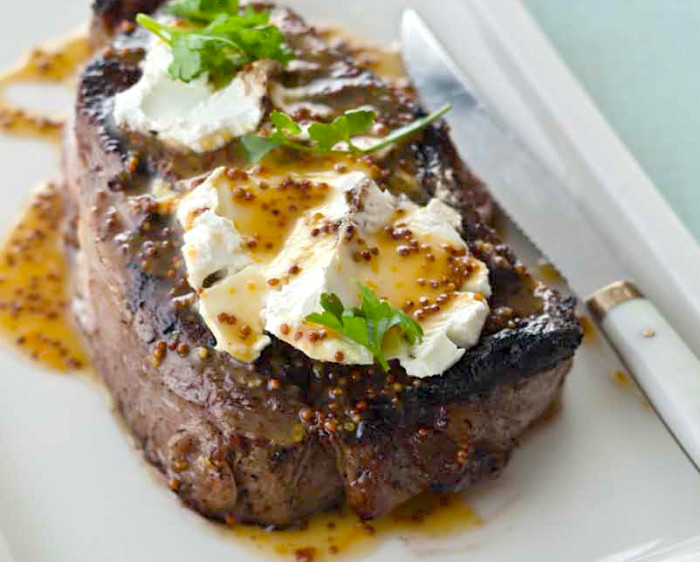 It just wouldn't be Grilling Month without a few recipes from Bobby Flay's new grilling cookbook, Bobby Flay's Barbecue Addiction. Well what do you know? We too have barbecue addictions! And like Flay, we're always keeping our eyes open for the next great thing to throw on the grill. In this case, a perfect ribeye topped with tangy lemon, goat cheese and mustard.
Ribeyes are the kind of steak I often order when I'm out. They have the most flavor, which comes from all that gorgeous marbling. This dish may sound like a crazy combination, but I have to tell you, it works. I just love the way the tangy goat cheese, bright mustard and fresh peppery watercress come together to complement the rich beefiness of these thick steaks. As a matter of fact, I think it works so well that I serve a burger with these same toppings at Bobby's Burger Palace; the Napa burger is one of my favorites.
If you can't find Meyer lemons, just use the zest and juice of half of a regular lemon and half of an orange instead.
Reprinted with permission from Bobby Flay's Barbecue Addiction
Ingredients
1

(2-pound) rib eye, 1 1/2-inches thick, excess fat trimmed

1/2

cup

clover honey

1

tablespoon

Dijon mustard

1

tablespoon

whole grain mustard

grated zest and juice of

1 Meyer lemon

4

ounces

fresh goat cheese, slightly softened

Kosher salt and freshly ground black pepper

canola oil

fresh flat-leaf parsley leaves, for garnish
Directions
Remove the steak from the refrigerator 30 minutes before cooking.
Whisk together the honey, both mustards, the lemon zest and lemon juice in a small bowl and let the mixture sit at room temperature for at least 30 minutes to allow the flavors to meld.
Put the goat cheese in a bowl and season with salt and pepper. Refrigerate until needed.
Heat your grill to high for indirect grilling.
Brush the steak with canola oil and season liberally with salt and pepper. Grill, directly over the coals, until golden brown and slightly charred, about 5 minutes. Turn over the steak and position it away from the coals (indirect heat). Close the cover and grill, turning once, until an instant-read thermometer inserted into the center registers 135°F, about 10 minutes. Remove the steak from the grill to a cutting board, tent loosely with foil and let rest for 5 minutes.
Top the steak with the goat cheese, drizzle with the honey mustard, and garnish with parsley leaves.
More ribeye recipes on Food Republic: