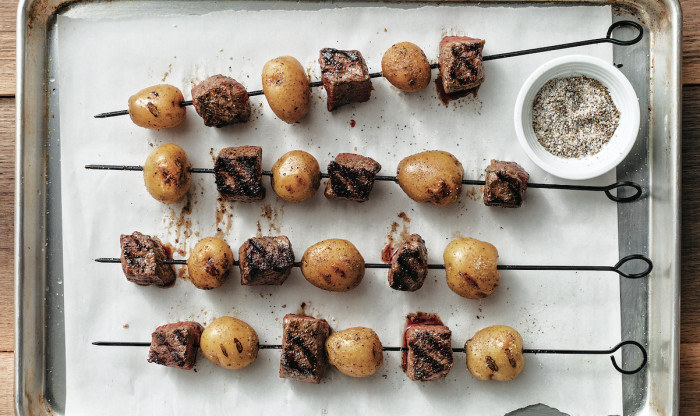 It's full-on kebab season, and we've got some great recipes from the book that says it all. With creative preparations, delicious sauces, vegetarian and vegan options for everyone, you'd be hard-pressed to get through the book without craving something on a skewer. Fire up the grill and get cooking! These steak and potato kebabs are a simple way to get a favorite dinner on the table, fast. 
Who doesn't love steak and potatoes? It is a very popular food combination eaten in the West. This is the kebab version of that dish. It is best to parboil the potatoes before placing them on the skewer. That way, the steak and potatoes cook evenly and at the same rate. Look for very tiny potatoes. If you cannot find them, try using smaller fingerling potatoes.
Note: For a vegetarian or vegan option, use mushrooms or seitan instead of the beef. Reduce the cooking time by half.
Ingredients
2

pounds

sirloin or tri-tip steaks

20 to 22

tiny potatoes, 1- to 1 1/2-inches-around

6 to 8

skewers

olive oil

1

teaspoon

black pepper

2 1/2

teaspoons

salt

1/2

teaspoon

dried marjoram
Directions
For the kebabs
Parboil the potatoes for 6 to 8 minutes, depending on their size. The potatoes should be tender, but not mushy. They will finish cooking on the grill. When the potatoes have reached the desired doneness, remove them from the pot and place into an ice bath (a bowl filled with cold water and ice) for 5 minutes to stop the cooking process. Remove the potatoes from the ice bath and pat dry. Set aside.

Cut the steaks into 1¼-inch cubes.

Preheat the grill for medium-high heat. When the grill is ready, oil the grill grates right before putting on the kebabs. Using long-handled tongs, dip some folded paper towels in a high smoke-point cooking oil and wipe down the grill grates, making at least three good passes to create a nonstick surface.

Thread the beef cubes onto the skewers, alternating with the parboiled potatoes. Brush the kebabs with olive oil and mix together the black pepper, salt, and dried marjoram. Season the kebabs well with the mixture.

Place the kebabs onto the grill. Cook for 4 minutes, gently turn, and cook for a remaining 5 minutes or until meat has reached desired doneness and the potatoes have cooked all the way through.

Remove the kebabs from the grill and serve.