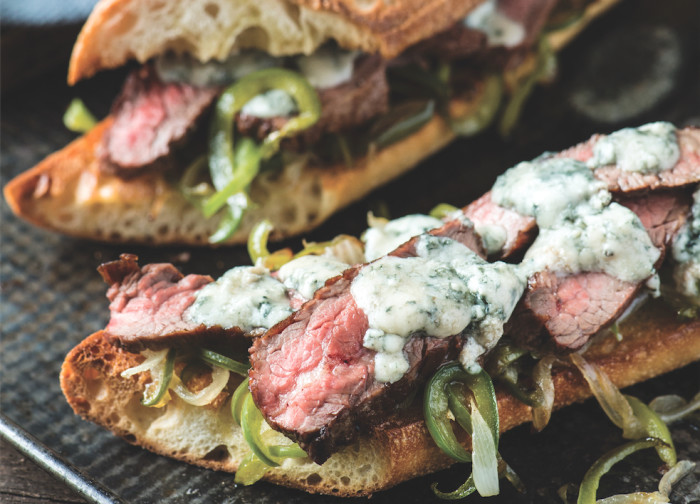 For masterful Spanish cooking you can replicate at home, look to chef Katie Button's new book, named for her Asheville restaurant. Cúrate is packed with 125 recipes from the classic to the modern, tapas and drinks to main courses and desserts, with plenty of surprises in between. Try this steak, green pepper and blue cheese sandwich recipe for lunch, and you'll see the light.

When I first saw this sandwich in Spain, I immediately thought of Philly cheesesteak. It had steak piled with caramelized peppers and onions and I thought, "I bet blue cheese would be great on that." Turns out I was right. The savory sharpness of blue cheese tempers the sweetness of caramelized onion and pepper while standing up to hearty steak.
Ingredients
1

pound

skirt steak

Kosher salt and freshly ground black pepper

extra-virgin olive oil

1/2

large onion, thinly sliced

1

green bell pepper, stemmed, seeded and thinly sliced

1

12- to 14-inch

demi-baguette

1/4

cup

blue cheese, such as Valdeón
Directions
For the sandwich
Heat a large cast-iron skillet over high heat. Sprinkle 1 teaspoon salt all over the steak, then season with pepper. Add enough oil to lightly coat the bottom of the skillet. When it's almost smoking, add the steak. Cook, turning once, until nicely seared, about 3 minutes per side for medium-rare. Transfer to a cutting board. Reduce the heat to low. If the pan is dry, add enough oil to coat the bottom, then add the onion and pepper. Cook, stirring occasionally, until very soft, about 12 minutes. Season with ½ teaspoon salt.

While the vegetables cook, preheat the oven to broil, on a low broil setting if you have it.

Trim the ends of the baguette, then cut in half lengthwise to create a top and bottom for the sandwiches. Brush the cut sides with olive oil and place on a foil-lined half-sheet pan. Broil until golden, 1 to 3 minutes.

Thinly slice the steak across the grain and layer it on the bottom half of the baguette. Top with the onion and pepper, then sprinkle with the cheese. Return to the broiler and heat just until the cheese melts, 1 to 2 minutes. Sandwich with the top half of the baguette and cut in quar­ters. Serve immediately.