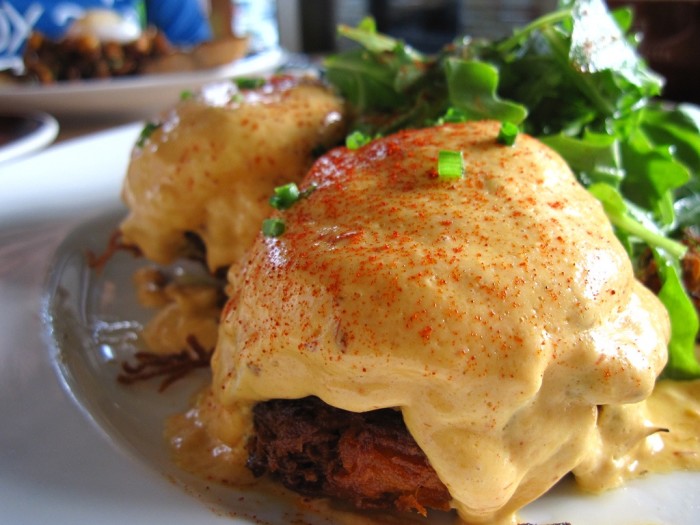 If you have some steak and spinach left over from this weekend's cookouts, steak and eggs benedict is a damn good way to put it to use. If you've already got the meat and spinach, you can whip up a hollandaise sauce and you're good to go.
Ingredients
8

eggs

1

tablespoon

white vinegar

4

English muffins, toasted

8

thin slices

leftover steak, to fit on each side of the English muffin

spinach, leftover cooked, and warmed, a spoonful for each side of the English muffin
Hollandaise sauce
3

egg yolks

6

ounces

butter, melted

1

teaspoon

fresh squeezed lime juice

salt to taste

1

tablespoon

sauce from a can of chipotles in adobo
Directions
For the eggs:
In a large pot of boiling water add the vinegar. Turn the heat down to a low simmer.
Crack the eggs one at a time, into a small bowl and add them one at a time very gently into the simmering water.
Cook for 3-5 minutes until the egg is completely coagulated and the yolk looks slightly opaque. Remove from the water.
For the Hollandaise Sauce:
Pour 1-inch of water into a pot over medium heat, and heat to a simmer. Reduce the heat to low.
Place egg yolks and 1 teaspoon water in a medium metal mixing bowl and place over the simmering pot. Whisk until mixture lightens in color, approximately 1 to 2 minutes.
Place the mixture over the simmering water and whisk constantly for 3 to 5 minutes, or until the mixture thickens, doubles in quantity and becomes a lighter color.
Remove the bowl from over the simmering water and gradually add the butter, in a slow stream, continually whisking until all of the butter is incorporated. Do not rush this procedure or your sauce may break and become curdled looking.
Place the bowl back over the simmering water occasionally so that it stays warm —NOT HOT — you don't want to scramble your egg yolks.
Add the lime juice, adobo sauce and season with salt. Serve immediately or keep warm.
Assemble the dish by placing sliced steak on top of each side of the toasted English muffin. Scoop warm leftover sauteed spinach on top of the steak, top with a poached egg and drizzle the hollandaise on top of each egg.