Squeeze Bottle Pancakes Recipe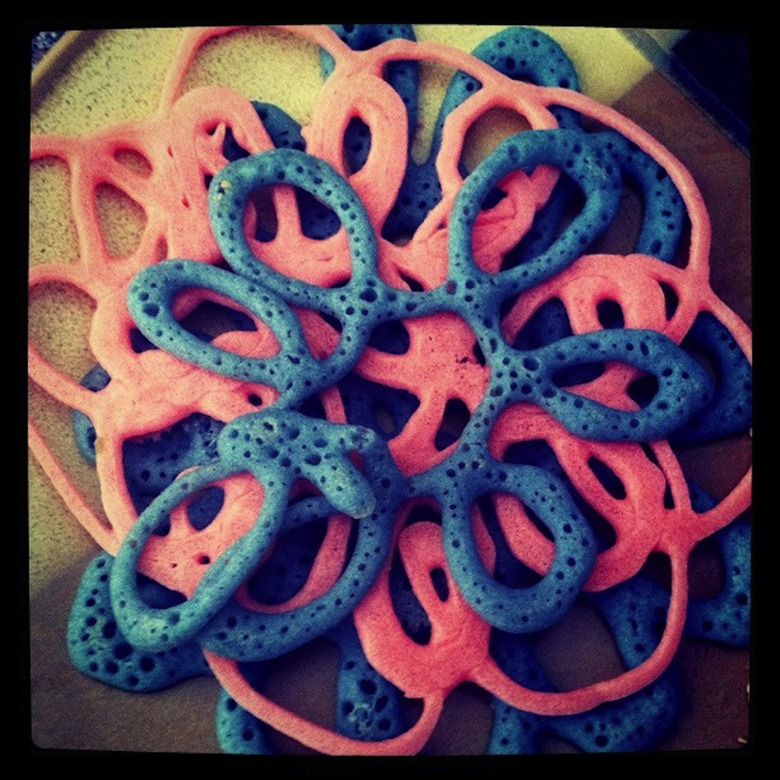 squeeze bottle pancakes
With the aid of a plastic squeeze bottle, readily available at the restaurant supply store for about five bucks, you can get out of your pancake rut and into some artfully dispensed brunch. Plus, no drips all over the stove and counter!
Cut a larger hole in the tip of the bottle to allow the batter to dispense. Add food coloring if you must (hey, kids have to eat too), eat with your hands if desired and draw whatever strikes your fancy. But in case your jet propulsion engine blueprint burns before it's time to flip it, two helpful hints: loopy flower shapes cook most evenly, and allow for two or three screw-ups before you get the hang of it.
Squeeze Bottle Pancakes Recipe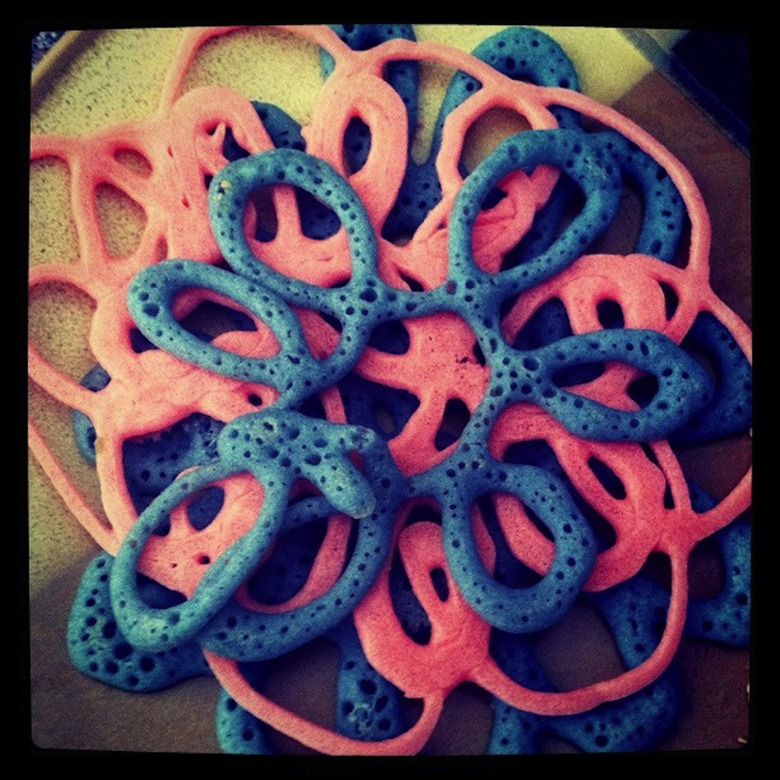 Ingredients
1 3/4 cups all-purpose flour
2 teaspoons baking powder
1 tablespoons sugar
1/4 teaspoon salt
2 large eggs
1 1/4 cup whole milk
4 tablespoons melted butter
Food coloring
Directions
In a medium-size mixing bowl, whisk together all your dry ingredients
In a separate bowl, whisk together all of the wet ingredients until the egg is broken up.
Add the wet ingredients to the dry ingredients by gently stir together until you stop seeing flour, then gradually add food coloring (if using) until desired shade. Be careful not to overmix, that will make the batter tough. 
Transfer the batter to a plastic squeeze bottle with the tip widened to allow batter to flow through
Place a large non-stick pan over a medium-high flame and let the surface get hot. It's hot enough when you sprinkle a few droplets of water over the surface and they evaporate.
Moisten a paper towel with vegetable oil and lightly wipe the bottom of the pan. This will keep the pancakes from sticking.
Dispense batter in even loops, and allow to cook until bubbles form on top. Flip and cook on the other side for 30 seconds to a minute, then transfer to a plate and repeat until all the batter is gone.