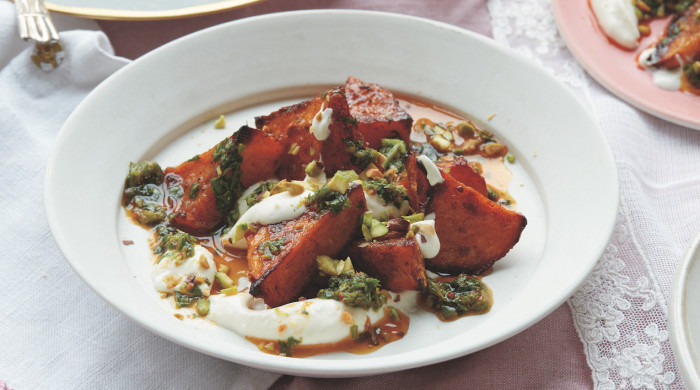 If there's one Yiddish word you need to learn, it's "fress." It means chowing down without restraint, and it's the mantra of a new cookbook by British food writer Emma Spitzer. Dive into updated versions of beloved Jewish recipes from Poland and Russia and modern classics from around the Middle East and North Africa. This butternut squash with whipped feta is about as good as vegetarian food gets!
Sweet, salty, and spicy all on one plate; this dish is a great hit of powerful flavors that all mesh really well together. Zhoug is a fiery Middle Eastern relish that works as a condiment for all manner of dishes, so store any leftover sauce in an airtight container in the fridge for up to two weeks.
Editor's note: You can make whipped feta at home by mixing feta and milk or cream cheese in a stand mixer (or mashing it by hand) until smooth and seasoning with salt.
Ingredients
1

large butternut squash, peeled, seeded and cut into 3/4-inch chunks

2

tablespoons

butter, melted

1

tablespoon

soft dark brown sugar

1

teaspoon

ground cinnamon

1/2

teaspoon

sea salt

1/4

cup

unsalted pistachio nuts

1/2

cup

whipped feta
Zhoug
1

bunch

cilantro, including stalks

1/2

bunch

flat-leaf parsley, stalks removed

1

green chile

1

tablespoon

dried red chile flakes

1/2

teaspoon

ground cumin

1/2

teaspoon

ground coriander

1/2

teaspoon

sea salt

1/2

cup

canola oil

juice of 1/2 lemon
Directions
For the squash
Preheat the oven to 400°F.

Place the butternut squash in a bowl and toss with the melted butter, sugar, cinnamon, and salt. Spread out the coated squash pieces on a baking pan and roast for 30 minutes, or until cooked through and the sugar is starting to caramelize.

While the squash is roasting, spread out the pistachios on a separate baking pan and roast for 8 minutes or until they begin to brown and smell nutty. Remove from the oven and let cool, then chop coarsely with a knife.

For the zhoug, place all the ingredients except the lemon juice in a food processor and pulse until it forms a loose green sauce. Stir in the lemon juice.

Once cooked, transfer the butternut squash to a serving dish and dot it with tablespoonfuls of the whipped feta before drizzling with the spicy zhoug and scattering with the chopped nuts.