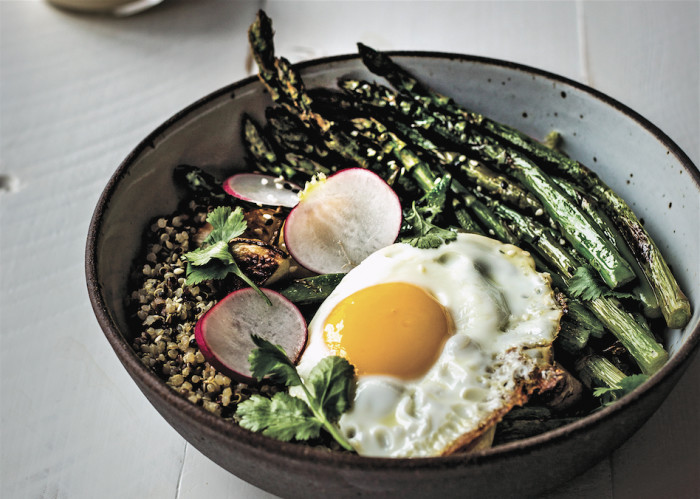 Dishing Up The Dirt is a vibrant new collection of wholesome (and gorgeous) recipes by farmer and blogger Andrea Bemis. Endowed with the unique beauty of freshly picked, organic produce and packed with stories and techniques, this is one book that belongs in your library. Make a spring grain bowl to celebrate the bounty of one of our favorite seasons on the farm!
I like to cook up big batches of grains along with a few sauces or salad dressings on Sundays. This makes weekday mealtime (specifically lunch) really easy for us. Lunch is the toughest meal of the day because I have no prep time — but a simple bowl of grains, some veggies, fried egg, and a sauce makes for a stress-free and energizing midday meal. This soul-soothing bowl truly celebrates the bounty of spring.
Separate the greens from radishes, turnips, carrots, and beets as soon as you bring them home from the market. The greens leech moisture from the vegetable, causing the roots to go soft quickly. Store the greens and roots in separate plastic bags in your refrigerator.
Ingredients
Tahini Miso Dressing
1/4

cup

tahini

1

tablespoon

white miso

1

tablespoon

fresh lemon juice

1/4

cup

warm water, plus more to thin if necessary

freshly ground black pepper
Celebration Bowl
1

cup

dry quinoa

1

bunch

asparagus, trimmed

2

cups

sugar snap peas

3 to 4

small turnips, cut into 1/2-inch pieces

1

tablespoon

olive oil, plus additional for frying eggs

4

eggs

3 to 4

radishes, thinly sliced

1

bunch

cilantro, minced

1/4

cup

sesame seeds
Directions
For the bowl
Whisk together the tahini, miso, and lemon juice with an immersion blender or hand whisk. Slowly add ¼ cup warm water, adding more, if necessary, until you reach your desired consistency. I like this dressing on the thicker side but feel free to add more water for a thinner sauce. Season with pepper and set it aside.

Prepare the quinoa according to the package instructions. Preheat the oven to 400°F. Toss the asparagus, sugar snap peas, and turnips with the oil. Place them on a rimmed baking sheet and roast until they are lightly browned and tender, 18 to 20 minutes. Toss veggies halfway through cooking.

When you're almost ready to serve, fry your eggs: Heat a little olive oil in a large nonstick skillet over medium. When the oil is hot, crack in the eggs. Cook until the whites are set and the yolks are still slightly runny, about 5 minutes.

To assemble, spoon quinoa into the bowls. Top each serving with roasted veggies, radishes, cilantro, and sesame seeds. Drizzle with the dressing and place a fried egg on top.