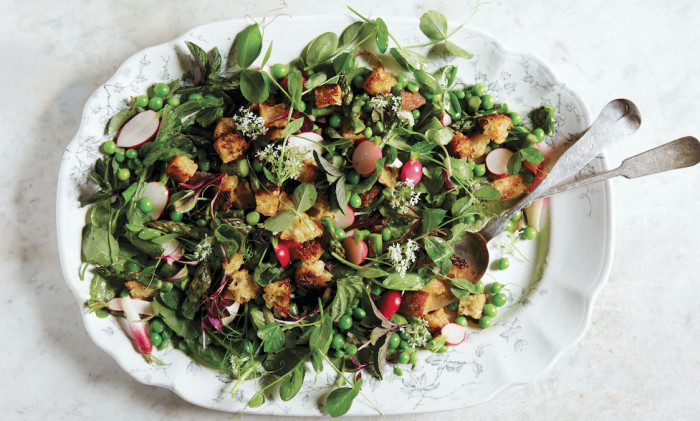 If renowned Maine chef and food writer Erin French isn't yet on your radar, get acquainted with her now! Her recent cookbook, named for her storied restaurant, is packed with the recipes that made her famous. This greens and bread salad is full of our favorite vegetables of the season. Enjoy!
Whether for breakfast, lunch, or dinner, one of my top five things to eat is warm toasted bread soaked through with vinaigrette. And I feel a little bit better about it when I throw in some crunchy greens — or asparagus, radishes, and peas, when the farm stands are brimming over with them this time of year. Seek out a good white bread like a country bâtard or other crusty sourdough loaf — something made with a good, long ferment that gives it a rich, sour flavor.
Ingredients
1

pound

asparagus

3

tablespoons

olive oil

Salt and pepper

1

cup

shelled fresh peas, blanched

2

bunches

mixed radishes, such as French breakfast and any other beautiful radishes that catch your eye, halved

3

cups

torn bread

2

tablespoons

chopped fresh mint

2

cups

pea tendrils or pea shoots

3

tablespoons

Macerated Shallot Vinaigrette

fresh chives
Macerated Shallot Vinaigrette (makes about 1/2 cup)
1

shallot, finely diced

2

tablespoons

seasoned rice wine vinegar, or enough to just cover the shallots

1/4

cup

olive oil

A couple

twists

pepper
Directions
For the vinaigrette
Combine the shallots and rice vinegar and allow to macerate for at least 20 minutes or up to overnight. Whisk in the olive oil and pepper. You could store this in your fridge for up to a week, but you'll get the freshest, brightest flavor if you use it within 24 hours.
For the salad
Preheat the oven to 425°F.

Cut the asparagus into 2-inch pieces, discarding the tough ends.

Arrange the pieces in a single layer on a baking sheet, drizzle with 1 tablespoon of the olive oil, and season with salt and pepper. Give the pan a shake to coat the asparagus. Roast until the pieces are tender but still a bit crunchy, about 5 minutes. Set aside to cool to room temperature.

Combine the asparagus, peas, and radishes in a medium bowl. Heat a medium skillet, preferably cast iron, over medium-high heat, then pour in the remaining 2 tablespoons olive oil. When the oil shimmers, add the bread and cook, turning partway through, until browned, about 4 minutes. Add to the vegetable mixture. Sprinkle in the mint, pea tendrils, and vinaigrette and toss to dress. Season with more salt and pepper if desired and garnish with a flurry of chives, snipped with kitchen shears.