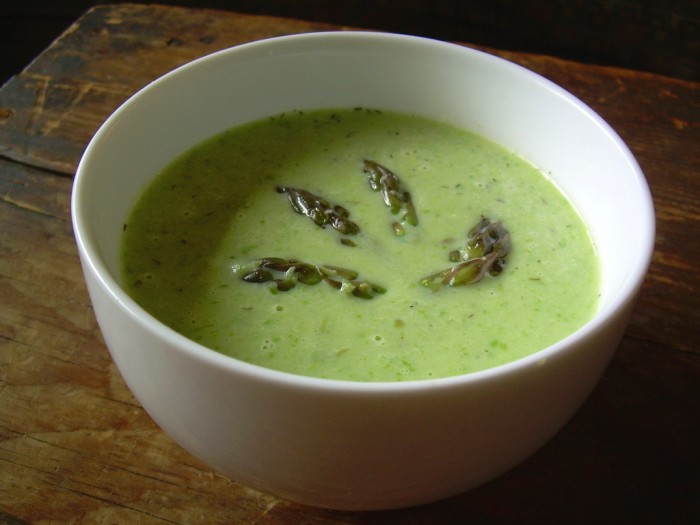 Asparagus is in peak season in most parts of the U.S. from April through late May, and should be eaten as close to its harvest as possible to maintain its sweetness and texture. Traditionally, it's either steamed or boiled, and is often cooked in an upright bundle to allow the woody stems more cooking time than the more delicate tips, which only need gentle steaming to become tender. Asparagus can also be roasted or grilled to create a balance of charred and concentrated sweet flavors.
Last month, I made it down to DBGB Kitchen and Bar in NYC for the debut of the annual seasonal dish, "Asparagus and fried egg with smoked duck and cracklings, mustard egg dressing." This dish resembles a sleeker and trimmer version of a Scotch egg, without the heavy fried breaded sausage casing. Instead, this elegant spring dish is prepared with lightly breaded and fried soft-boiled egg, served over a creamy, light, whole grain mustard egg dressing in the center of perfectly cooked white and green asparagus, alongside smoked duck and cracklings. It was the perfect early spring asparagus dish.
The egg and asparagus combo inspired me to make an asparagus soup on a recent wet day. Spring asparagus soup can be both warm and comforting, while also worry-free for anyone (my wife) who might be summer-wardrobe-conscious. This is also a great weekend dish to slow simmer.
Ingredients
2

pounds

asparagus

1

shallot, sliced thin

2

cloves

garlic, minced

5

cups

vegetable stock

2

cups

water

1/4

cup

parsley, finely chopped

3

tablespoons

Apple butter, 1 tablespoon softened

1

tablespoon

olive oil

4

eggs

2

green onions, roughly chopped

2

celery ribs, diced

1

carrot, diced

2

yukon gold potatoes, peeled and cut into 1-inch pieces

3

tablespoons

Parmigiano- Reggiano cheese, shredded

Salt and pepper

1/2

teaspoon

cayenne pepper

1 1/2

tablespoons

fresh squeezed lemon juice

4

slices

baguette, cut on the bias inch thick

hot sauce for topping
Directions
Cut off asparagus tips and put aside, cut off woody bottoms and save, cut remaining spears in 1 inch pieces
Over medium high heat in large soup pot heat 2 tablespoons of butter, add shallots, garlic, celery, green onions, and carrot, cook until tender about 4-5 minutes. Remove from pot and set aside.
Add stock, water, and the woody asparagus ends to the pot and bring to a boil, reduce heat and simmer for 20 minutes.
Remove the woody asparagus ends with a slotted spoon from pot and discard.
Add the cooked vegetables to the stock and then add the potatoes and season with salt and freshly ground pepper.
Cook for 25 minutes on medium heat.
With the immersion blender or processor blend the soup until very smooth making sure there are no lumps, continue cooking on low heat.
Add the asparagus tips to the soup and, continue to cook for an additional 5 minutes over low heat.
Mix the 1/4 cup of chopped parsley with the softened butter and the parmigiano-reggiano, top each bread with mixture and broil until golden brown and a bit bubbly.
Turn off heat to the soup and stir in the lemon juice and cayenne.
In sauté pan heat oil and fry 4 eggs until cooked easy.
Ladle soup equally in 4 bowls.
Place a toasty in the middle of each soup.
Place a fried egg on each toasty.
Sprinkle with parsley and serve with your favorite hot sauce.