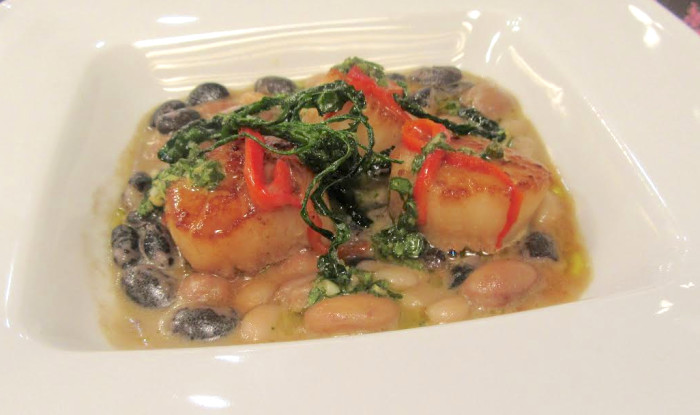 De Gustibus is one of New York City's longest-running cooking institutions (or, in their words, "culinary theater"), where people can hone their skills with some of the city's most exciting, innovative chefs during interactive classes. We sat in on a class taught by Spotted Pig head chef Katharine Marsh and left with our favorite new way to cook scallops.
"The theme of this season is called Infinite Possibilities and came about after seeing this very diverse roster of chefs," says De Gustibus owner and director Salvatore Rizzo. "Guests, as cooks, truly have infinite possibilities to create anything they want, with this season empowering them to diversify their knowledge and talents across cuisines, cooking styles, wines and more. I have seen chef Katharine Marsh assist chef April Bloomfield — people should be watching her!"
Ingredients
1

pound

heirloom beans, soaked overnight

1

Holland chili

2

cloves

garlic, minced

1

stem

sage

4

quarts

water

3

tablespoons

salt

1/2

cup

olive oil
4

scallops

butter, to taste

1/2

pound

spigarello
For finishing the beans
1/8

cup

cooked beans

2

tablespoons

cooking liquid of beans

1

tablespoon

creme fraiche

1

tablespoon

olive oil

Pequin peppers

Maldon Salt

1

lemon
Directions
For the scallops and beans
Place the beans, chili, garlic andsage in a pot with the water and cook slowly until the beans are tender, about an hour. Once the beans are cooked, take off the heat and season with salt and oil. Cool. Reserve some of the cooking liquid.

Heat a tablespoon of olive oil over medium heat in a shallow pan and fry the spigarello until crispy. Season with salt and set aside.

Sear the scallops in olive oil in heavy-bottom pan until it is golden brown — about 2 minutes — then flip and sear for another 2, and season with a little bit of salt. Remove from pan, and baste with a dollop of butter.

To make the creamy dressing for the beans, take the 1/8 cup of beans and their cooking liquid, then add crème fraîche and emulsify with olive oil, pequin pepper, Maldon salt and the juice of the lemon.

Plate the beans, spigarello, and scallops, then drizzle with the dressing and serve.