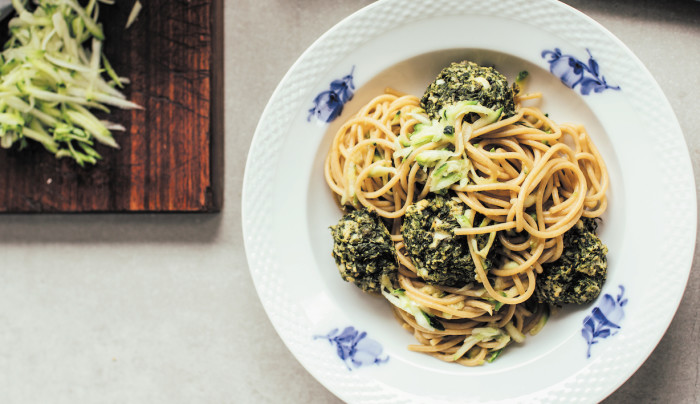 Ready to kick your home cooking game into high gear? Join blogger and Instagram sensation Izy Hossack and rejuvenate your go-to dishes into impressive, photogenic masterpieces. These spinach and feta balls liven up your spaghetti for a fresh new take on a beloved comfort food. 
You may look at me with squinted, questioning eyes when I tell you to use soy sauce, butter, and shredded zucchini to coat your pasta, but it does taste good. This recipe makes around 20 spinach and feta balls, enough for four people, so if you are only cooking for one or two people, the leftovers can be repurposed as a falafel substitute the next day in a sandwich!
Gluten Free:  If you can tolerate oats, make sure you use certified gluten-free oats in your oat flour. Use gluten-free pasta (e.g. brown rice pasta) and tamari or gluten-free soy sauce.
Ingredients
14

ounces

baby spinach or 9 ounces frozen, cooked spinach, thawed

2/3

cup

crumbled feta cheese

1

tablespoon

mixed dried herbs, (I like herbes de Provence)

1

egg

1/2

cup

Oat Flour or dry bread crumbs

1/4

cup

olive oil, for cooking (optional)

10 1/2

ounces

dry spaghetti or 1 1/4 pound cooked

A

pat

unsalted butter or 2 tablespoons extra virgin olive oil

2

tablespoons

soy sauce or tamari

1

medium zucchini, shredded

freshly ground black pepper
Directions
For the balls
If using fresh baby spinach, add to a large saucepan with a small splash of water. Place over medium-low heat and cover with a lid. Cook until wilted, 3 to 5 minutes, then rinse under cold running water. Squeeze the spinach out over the sink to remove as much liquid as possible, then coarsely chop and set aside.

n a medium bowl, mix the feta, dried herbs, a generous amount of pepper, the egg, and flour or bread crumbs together. Stir in the chopped spinach, then scoop heaping tablespoons of the mixture and roll into balls. You should get about 20 balls. You can either place them on a baking sheet lined with nonstick parchment paper and bake in an oven preheated to 350°F for 20 to 25 minutes, or fry them over medium heat in 2 batches, in 2 tablespoons oil per batch, turning, until golden on both sides, 3 to 5 minutes.

If starting with dry pasta, put in a medium saucepan and cover with just-boiled water from the kettle. Bring to a boil and cook until al dente (this will generally be the shorter cooking time specified in the package directions). Drain, reserving a small mugful of the pasta water.

Return the pasta to the pan off the heat, then stir in the butter, soy sauce or tamari, and shredded zucchini. Serve the pasta with the spinach balls.