Spinach Artichoke Balls Recipe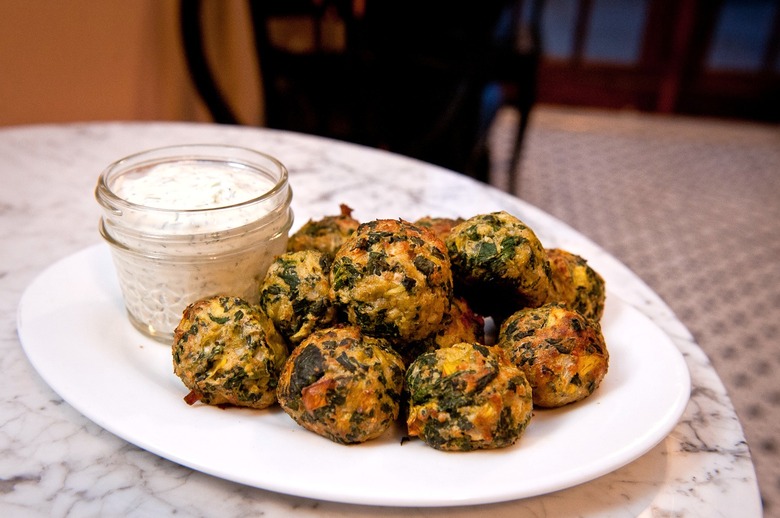 Frozen spinach will do, but fresh is better. (Photo: Gabi Porter.
At Sips & Bites we love to tweak a classic. This is a riff on a favorite game day snack — spinach artichoke dip. When we cater events, we find it's more special if everything is made in individual servings. This is much cleaner and better-looking than a big communal bowl of dip, but has the same familiar homey taste. Dill is a classic combination with spinach, and the dipping sauce adds the creamy component that the original dish is known for.
These spinach artichoke balls can be made super simple by using frozen chopped spinach, but if you have the time it's even more delicious with fresh spinach. Blanch 3 lbs of fresh spinach for 1 minute in boiling water, drain, cool, squeeze dry and chop.
Molly Quirk is executive chef and owner of Sips & Bites Catering.
Spinach Artichoke Balls Recipe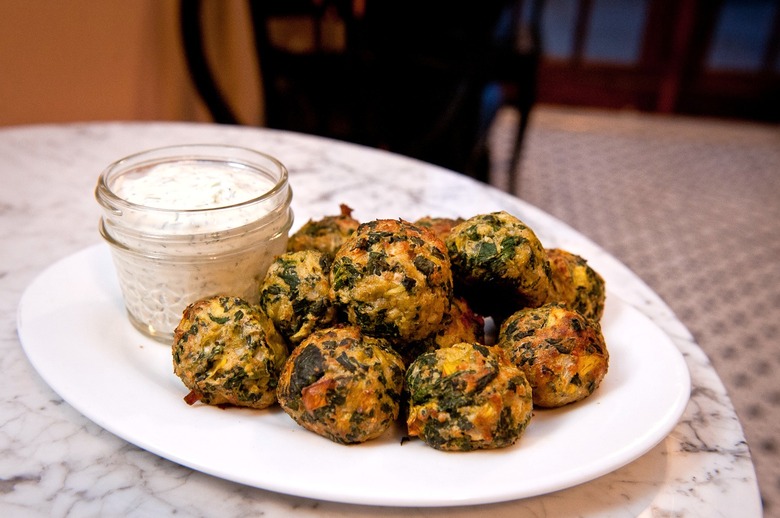 Ingredients
1 1-pound package frozen chopped spinach
1/2 pound frozen artichokes
5 eggs
1 large onion
4 tablespoons butter
1 1/2 cups Parmesan cheese
2 cloves garlic
1/2 teaspoon Cayenne powder
2 cups Italian-style breadcrumbs
1 cup mayonnaise
1 cup sour cream
1/4 cup dill
2 scallions
Directions
Combine all sauce ingredients together in a bowl, cover and refrigerate.
Preheat oven to 350 degrees F.
Squeeze excess water from spinach and put in a large mixing bowl.
Add remaining ingredients and mix well by hand. Form mixture into 1 ½" balls either by hand or with a small ice cream scoop. Roll them between the palms of your hand to get a uniform smooth finish.
Place balls on a parchment lined sheet pan and cook until firm to the touch, 20-25 minutes.
Serve warm with dipping sauce.