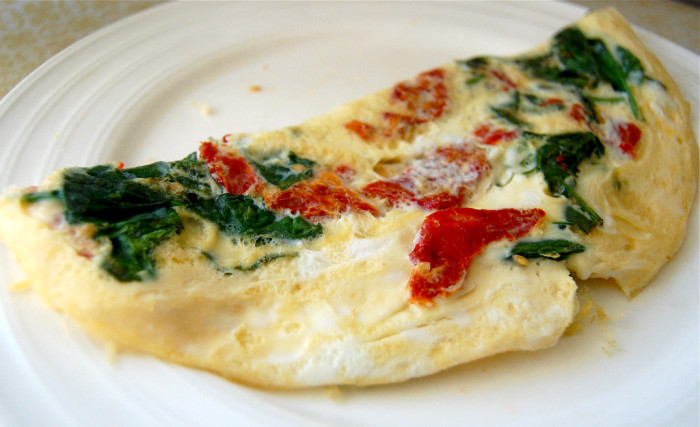 I've been making a lot of recipes with oven-roasted tomatoes, since I can't exactly recommend eating winter tomatoes raw. Our oven-roasted tomato recipe has served me very well — they're perfect in pasta, on pizza or in a sandwich. Recently, I discovered that they're perfect in an omelet. They release far less water than their raw counterparts, thus keeping your omelet nice and tight. What sugar they do have in them becomes caramelized and sweetens the whole deal.
Tomatoes, spinach and feta are a classic Mediterranean pairing which come together for a healthy and delicious omelet, perfect for brunch. Make a large batch of oven-roasted tomatoes and enjoy them all week.
Ingredients
1

tablespoon

olive oil

4

large

eggs, beaten

1

cup

baby spinach leaves, washed and dried

1/2

cup

oven-roasted tomatoes, roughly chopped

1/2

cup

Feta cheese, crumbled
Directions
Heat the olive oil in a small non-stick pan over medium-low heat.
Saute the spinach for 2-3 minutes, or until wilted, then add the tomatoes and toss to combine. Using a spatula, spread the vegetables evenly over the surface of the pan.
Pour in beaten eggs and shake pan to distribute evenly.
When bottom is set, about 2 minutes, loosen the omelet from the pan to prevent sticking. Sprinkle the feta cheese evenly on one side, then flip the other side over to cover completely. Cook until golden brown, then flip the omelet and cook for a minute on the other side.
Cut omelet in half using a plastic spatula (we're not fancy), transfer to two plates and serve hot.
This recipe goes great with our easy breakfast potatoes — a great dish to master.