Spinach And Feta Potato Skins Recipe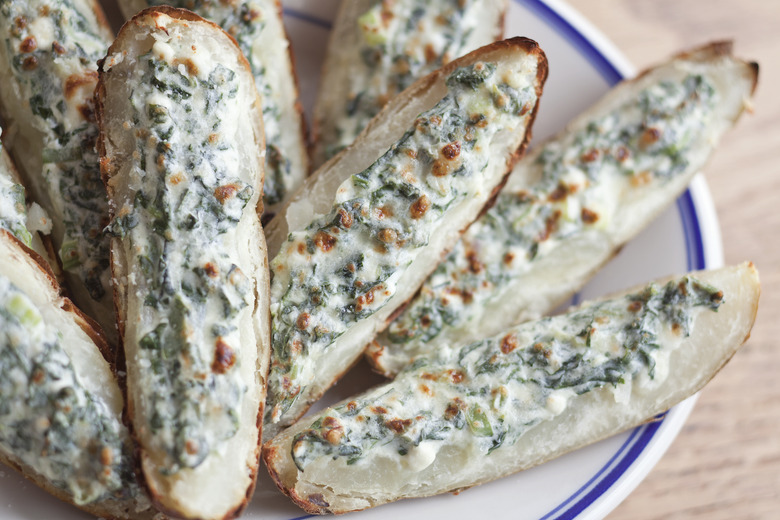 I love potato skins, but the combination of bacon, melted cheddar and melting sour cream can actually be a little too much even for a dish that's meant to be shameless. Don't shoot, I'm only human. Instead, I load my potato skins with creamy homemade spinach feta dip, sprinkle with parmesan and broil 'til crispy on top. That way you can eat more of them (and they won't just sit there congealing on the plate).
I use French feta for this recipe. It's creamier and takes to broiling a little better, but if you can only find Greek that'll do nicely, too.
Spinach And Feta Potato Skins Recipe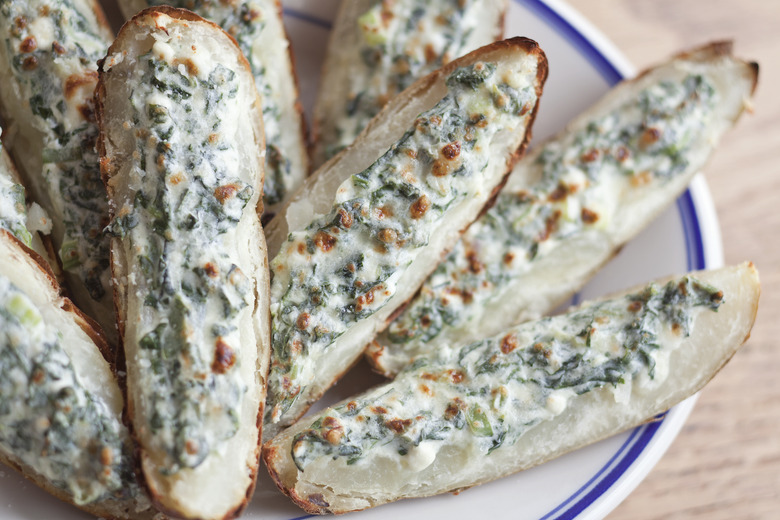 Ingredients
4 large russet potatoes
1 teaspoon olive oil
2 cups spinach
2 scallions
1/4 cup cream cheese
1/4 cup whole milk
1/2 cup crumbled French feta (feel free to substitute Greek)
1/4 cup finely grated Parmesan cheese
Kosher salt and freshly ground black pepper
Directions
Pierce potatoes with a fork and bake at 400F for 30 minutes, then allow to cool for at least 20 minutes.
Meanwhile, heat the olive oil in a medium pan over medium heat, then add the spinach and wilt for 1-2 minutes until just cooked through. Set aside to cool.
In a small bowl, combine the scallions, cream cheese, milk, feta, half the parmesan cheese and salt and pepper to taste. It should be a little chunky from the feta.
Slice each potato in half lengthwise, then into three wedges. 
Using a spoon, scoop out an indent in each wedge to give the spinach-feta mixture something to sit in. They should look like little boats.
Preheat the broiler, and finely chop the spinach and fold it into the spinach-feta mixture.
Fill each potato skin with the mixture (about a heaping tablespoon each).
Sprinkle the tops of the skins with parmesan cheese and broil for 5 minutes or until tops are golden-brown and crispy and serve.
Spicy Orange Chicken Wings
Victory Dogs
Baja Fish Nachos