Spicy Vegan Dragon Noodle Salad Recipe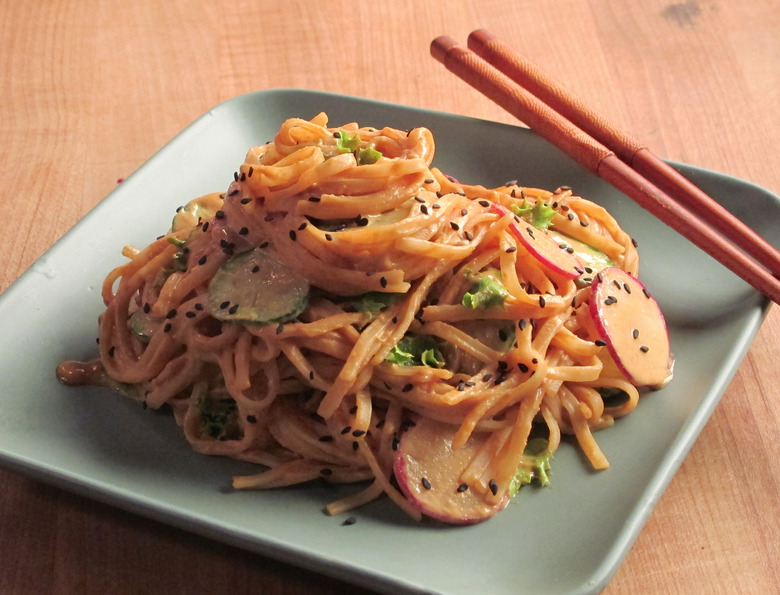 We may receive a commission on purchases made from links.
Isa Chandra Moskowitz is a pioneer of delicious vegan cuisine, with a ton of cookbooks under her belt and another superb one, Isa Does It: Amazingly Easy, Wildly Delicious Vegan Recipes for Every Day of the Week, just hitting the shelves. Try your hand at her spicy and savory Dragon Noodle Salad, one of our favorite dishes from the book, or watch her make it on Breville's YouTube Channel.
"Summer evenings are incomplete without a noodle salad like this to slurp up. Peanutty, sesame-y, spicy and loaded with crisp and cooling radishes and cucumbers," says Moskowitz.
Spicy Vegan Dragon Noodle Salad Recipe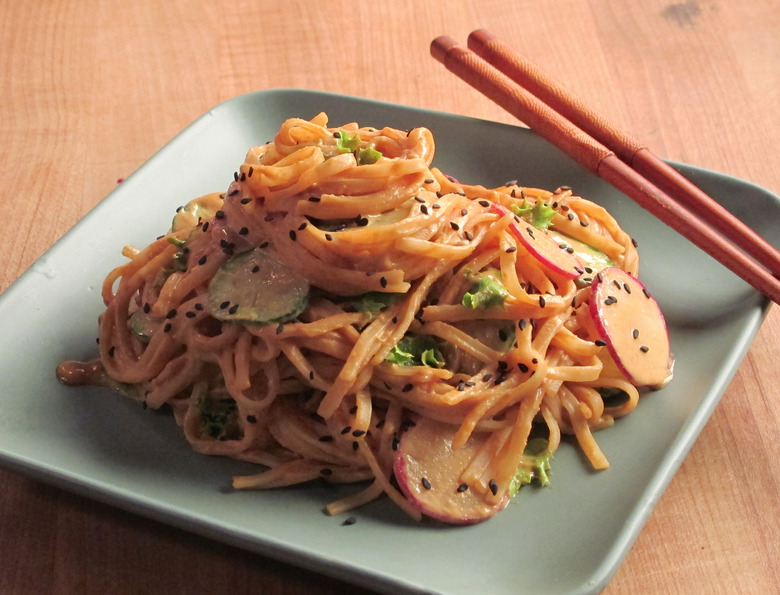 Ingredients
8 ounces pad thai rice noodles
1 cup cucumbers
1 cup radishes
8 cups crisp salad greens
1/2 cup smooth natural peanut butter
2 cloves garlic
1/3 cup water
3 tablespoons rice vinegar
2 tablespoons soy sauce or tamari
1 tablespoon agave nectar
1 tablespoon Sriracha
1 teaspoon toasted sesame oil
1/2 teaspoon salt
fresh cilantro
4 tablespoons toasted or black sesame seeds
Directions
Place all of the ingredients in a small blender or food processor and blend until very smooth.
Keep tightly sealed and refrigerated until ready to use. It will keep for up to 5 days
Prepare the noodles according to package directions. It's very important not to overcook them! Often the package says to boil water, then turn it off and let the noodles steep for about 8 minutes. Set a timer to be safe.
Once soft, immediately drain and run cold water over them until cool.
In a very large mixing bowl, toss noodles, radishes and cucumber with most of the dressing, setting aside a little bit for drizzling.
Place a bed of greens on each plate and top with noodles. Sprinkle with sesame seeds, top with a little cilantro, and serve.
Soba Noodle Salad with Spring Vegetables
Tangerine Beef with Glass Noodles
Chinese New Year Long Life Noodles