Spicy Thai Peanut Veggie Burgers Recipe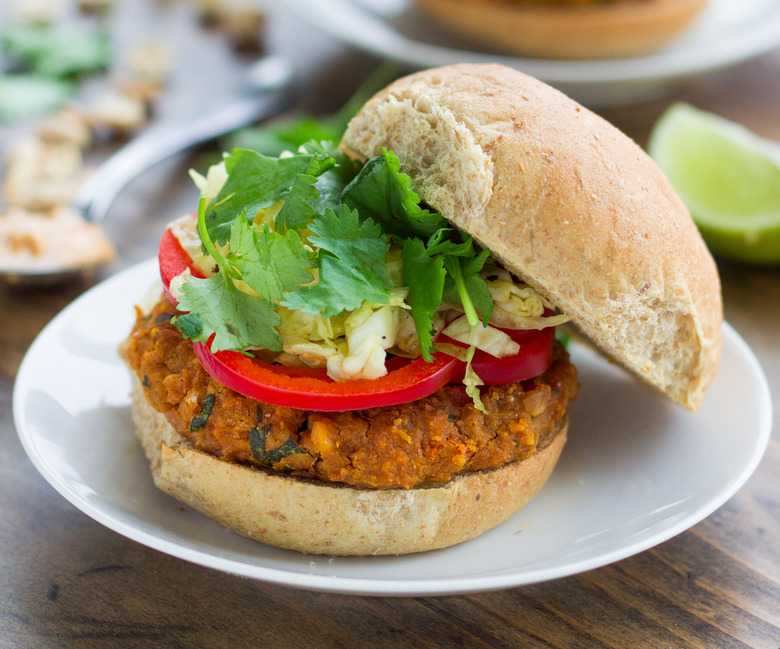 We may receive a commission on purchases made from links.
Fact: Vegetarian food can be every bit as protein-packed as its meatier kin. Veggie and the Beast bloggers Katie Parker and Kristen Smith's loaded new cookbook is an ode to vegetarian food with rib-sticking heartiness, and this spin on veggie burgers is no exception. Ready for lunch?  
Although I grab Thai takeout every so often, sometimes I need a quick meal that gives me all the flavor I crave while allowing me to save some money and stay comfy at home. These burgers come together easily, are packed with the flavors of my favorite Thai takeout, and include healthy, fresh ingredients.
Reprinted with permission from The High-Protein Vegetarian Cookbook
Spicy Thai Peanut Veggie Burgers Recipe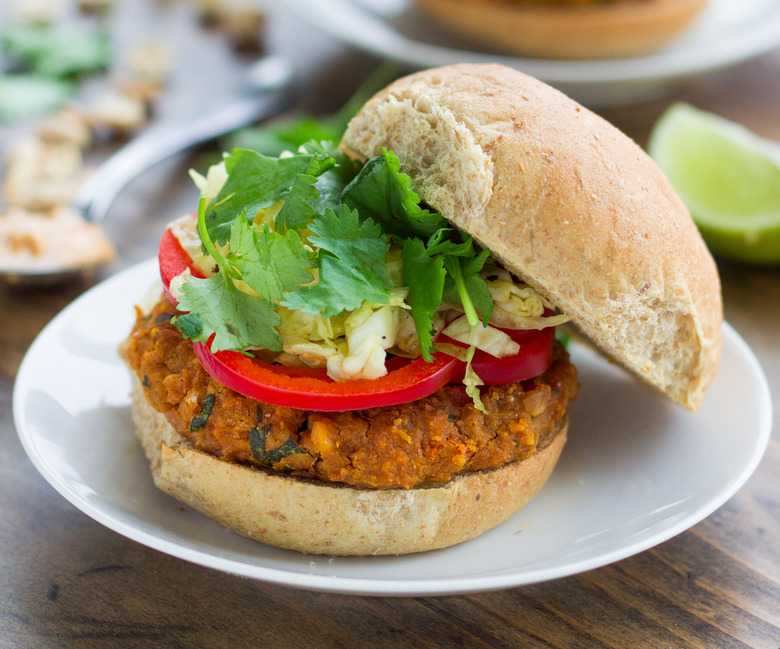 Ingredients
1 (15-ounce) can no-salt-added chickpeas
2 tablespoons Thai red curry paste
1 clove garlic
1/4 cup plus 2 tablespoons creamy no-sugar-added peanut butter
1 tablespoon honey
1/2 teaspoon kosher salt
1/4 teaspoon ground ginger
1 1/2 teaspoons hot sauce (such as sriracha)
1 1/2 teaspoons soy sauce
1/4 cup cilantro
1/2 cup shredded carrot
1/4 cup finely chopped red onion
1/4 cup roasted peanuts
1/2 red bell pepper
1 large egg
1/4 cup whole wheat flour
6 whole wheat burger buns
2 cups chopped savoy cabbage
Juice of 1/2 lime (1 tablespoon)
1 teaspoon soy sauce
1 teaspoon peanut oil
1/8 teaspoon kosher salt
1/8 teaspoon black pepper
1/2 teaspoon garlic powder
1/2 teaspoon honey
Directions
Preheat the oven to 350°F.
Combine the chickpeas, red curry paste, garlic, peanut butter, honey, salt, ginger, hot sauce and soy sauce in a food processor.
Pulse until the mixture is mostly smooth.
Transfer to a large bowl and stir in the cilantro, carrot, red onion, peanuts and red bell pepper.
Add the egg and stir until it's fully incorporated.
Stir in the flour.
Shape the dough into six patties and place them on a parchment-lined baking sheet. The mixture will be very sticky, so you may need to wipe off your hands after you form each patty.
Coat the top of the patties with cooking spray.
Bake for 15 minutes.
Remove from the oven, flip, coat again with cooking spray, and bake for another 15 minutes.
While the patties bake, mix together all of the slaw ingredients in a large bowl.
Place each patty on a toasted whole wheat bun, then top with the slaw. Red pepper slices and cilantro are great add-ons as well.
Try This Vegan Recipe For Stuffed Mushroom Burgers
Bistro Beet Burgers Recipe
Simple Bean Burgers Recipe