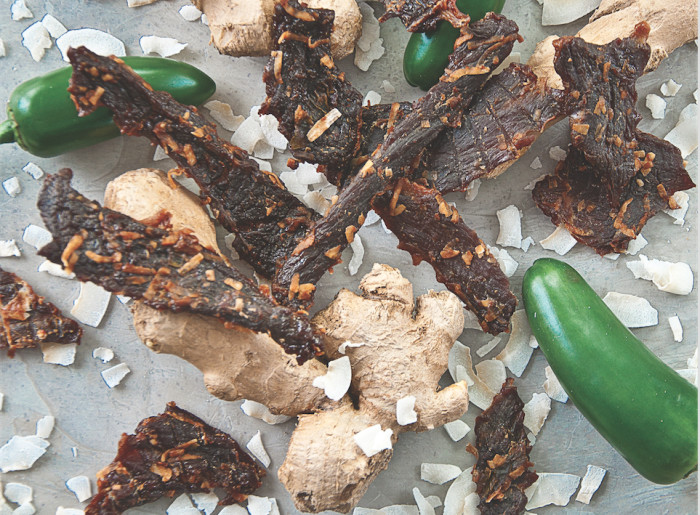 Food writer and blogger Pamela Braun's new jerky-centric book is anything but dry. Get it? Cause it's jerky? Anyway, pick up a copy of this step-by-step, totally comprehensive snack bible and get dehydrated! Well, not you yourself, but lots of various foodstuffs. Thinly sliced Thai-marinated beef, for example. 
If you like Thai food, you've found your jerky with this one. It's sticky, sweet, and a whole lot of flavorful. This is my favorite jerky! You can really taste the coconut in this, because it's in here in two different ways, but there's also a bit of heat, too. Even though the coconut milk is unsweetened, the slightly sweet shredded coconut adds a hint of sweetness to the overall flavor. All the flavors in this one are mild, but you can taste each and every one of them. This is another one of those "sticky" jerkies, so there will be lots of finger licking going on.
Ingredients
3/4

cup

canned coconut milk (not the stuff you find in the liquor aisle)

1/2

cup

soy sauce

1/3

cup

sweetened shredded coconut

1

jalapeno pepper, chopped finely

1

tablespoon

brown sugar

1

tablespoon

grated fresh ginger

1

pound

London broil strips
Directions
For the jerky
In a 1-gallon resealable plastic freezer bag, thoroughly mix together all the ingredients, except the meat, and allow the mixture to rest for 10 minutes.

Add the meat strips to the marinade and mix them around so they get completely coated with the marinade. Remove as much air as possible from the bag, seal, and place it in the refrigerator for 8 to 24 hours.

During the marinating time, remove the bag from the refrigerator and work the meat around so the marinade is fully incorporated into it, then replace back in the refrigerator.

Remove the strips from the marinade and arrange in a single layer in your choice of dryer. Dry as directed and enjoy.