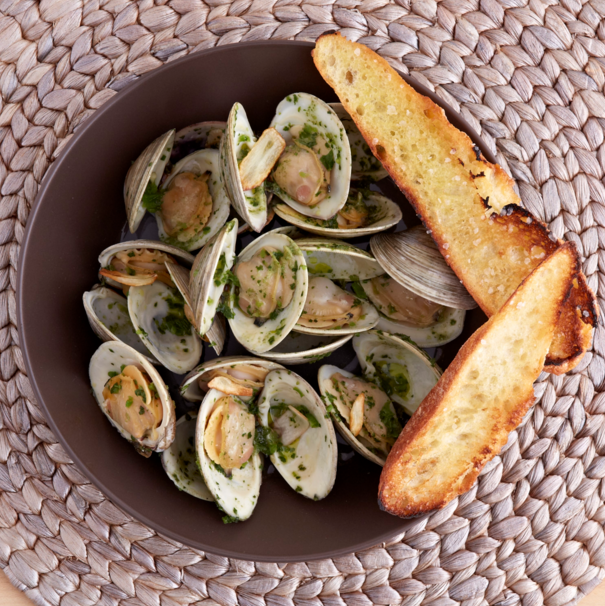 We reached out to chef, TV personality and IMUSA Cookware ambassador Aarón Sánchez for a quick Mexican recipe anyone can pull off at home. While shellfish may sound complicated and even downright "fancy," this recipe for clams cooked in homemade salsa verde goes from kitchen to table in 40 minutes flat. Take a quick break from tortillas for some hearty, crusty bread and make sure you don't burn yourself when chopping those jalapeños!
Ingredients
1

tablespoon

olive oil

4

garlic cloves, thinly sliced

1

pound

Manila clams or cockles, scrubbed

1/2

cup

dry white wine

1

cup

bottle clam juice or fish stock (homemade or store-bought)

1/4

cup

salsa verde

Salt and freshly ground black pepper

Grilled sliced crusty bread, for serving
Salsa verde (makes 2 cups)
1/4

cup

distilled white vinegar

2

jalapeños or 1 serrano chili, roughly chopped (seeds, too, if you can take the heat)

4

whole garlic cloves, peeled

4

dried bay leaves, crumbled

1/2

cup

chopped fresh flat-leaf parsley leaves

1/2

cup

chopped fresh cilantro

1/4

cup

chopped fresh oregano

1

cup

olive oil

Salt and freshly ground black pepper
Directions
For the clams
Combine the olive oil and garlic in a sauté pan. Put the pan over medium heat and cook, stirring often, until the garlic is golden brown, about 5 minutes. Be careful not to burn the garlic.

Add the clams and cook for 2 minutes. Add the wine and clam juice, shake the pan gently to combine the juices and cover. After 3 minutes, remove the lid and gently stir in the salsa verde until it's mixed in thoroughly with the clams and the liquid. Cover again and cook until the clams have opened, about 3 more minutes. Discard any that haven't opened after 5 minutes.

Season with salt and pepper to taste. Serve in bowls with grilled bread.
For the salsa verde
Combine the vinegar, jalapeños, garlic and bay leaves in the blender jar and puree until smooth. Strain through a fine-mesh sieve into a bowl. Stir in the herbs. Pour the olive oil in slowly and steadily, whisking the whole time. Season with salt and pepper to taste.