Spicy Rock Shrimp & Grits Recipe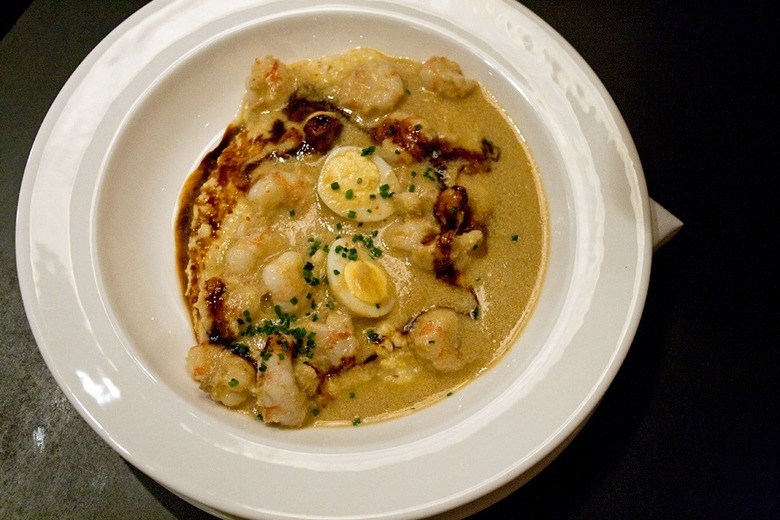 Photo: Masak NYC
This spicy rock shrimp is served at Masak with locally produced stoneground polenta. The curry sauce is based on Singaporean prawn curry, and together, the whole thing is my take on shrimp and grits. One of my favorite lunchtime dishes at home is a sambal udang (shrimp), often served with sambal quail eggs. I serve it with grits because it marries well with the sauce. Although we use rock shrimp at Masak, any shrimp or prawn may be substituted.
Spicy Rock Shrimp & Grits Recipe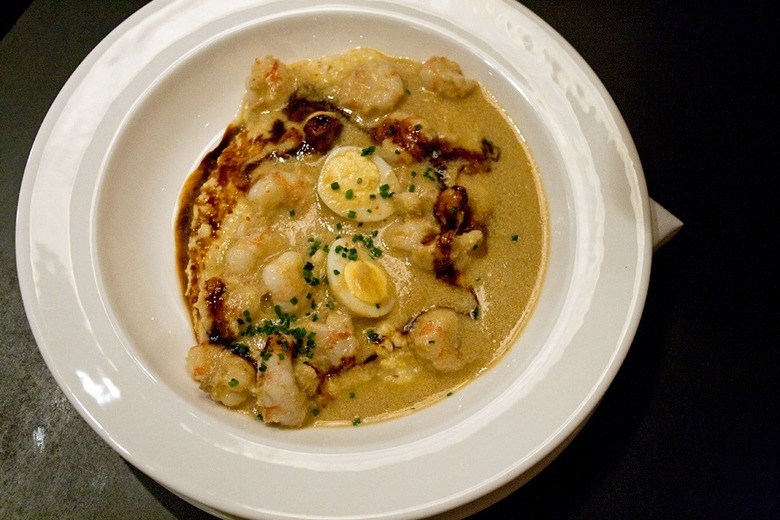 Ingredients
2 quail eggs
1 tablespoon tamarind paste
3 cloves garlic
4 shallots
3 long hot red chilis
1 stalk lemongrass
2 tablespoons canola oil
3 tablespoons coconut milk
1/2 cup grits
1 tablespoon butter
1/2 cup cheddar cheese
1/2 pound rock shrimp
Directions
Place quail eggs in a small pot with water to cover, bring to a boil, cover pot, remove from heat and let stand for 10 minutes.
Cool and carefully peel quail eggs and set aside.
Soak tamarind paste in 1/4 cup boiling water. Let stand for 10 minutes and strain, reserving the liquid and discarding the pulp.       
Blend garlic, shallots, chilis and lemongrass into a paste using a food processor or mortar and pestle.
Heat a large pan over medium heat and sauté paste in canola oil until fragrant and lightly browned, about 5-7 minutes, stirring frequently.
Add tamarind water and half the coconut milk. Simmer until thickened, then add remaining coconut milk and remove from heat.
Prepare grits according to directions, then stir in butter and cheese and add salt to taste. 
Bring sauce back to a simmer, add shrimp to sauce and simmer gently till cooked through.
Serve shrimp and sauce over grits and garnish with a halved hard-boiled quail egg.