Spicy Roasted Cauliflower Tacos Recipe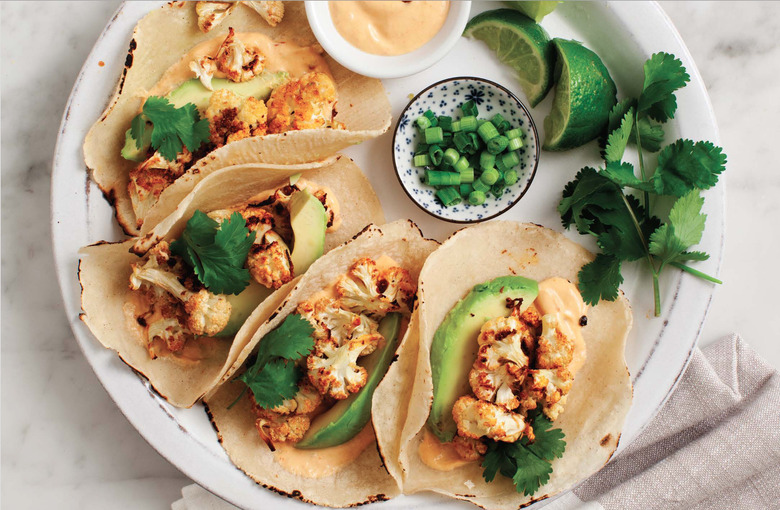 We may receive a commission on purchases made from links.
Blogger Jeanine Donofrio has a brand-new cookbook for what ails your fridge and pantry. The Love and Lemons Cookbook specializes in the utilization of ingredients you didn't think could produce a whole, filling, inexpensive and totally accessible meal. Bunch of arugula that's "now or never"? There's a chapter for that. Don't know what to do with that big head of cauliflower staring you in the face? Here's a solution that might just make it into your regular repertoire.
Make the chipotle sauce with sun "cheese" and skip the honey to make this vegan.
Spicy Roasted Cauliflower Tacos Recipe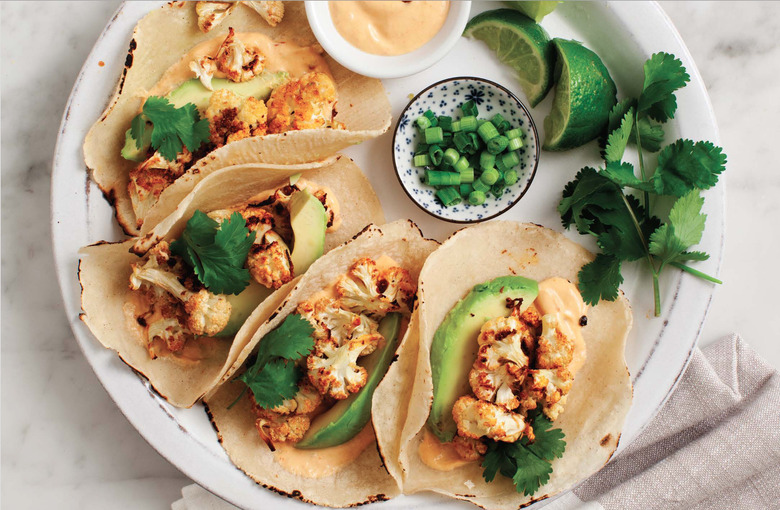 Ingredients
1 medium head cauliflower
extra-virgin olive oil
2 chipotle peppers from canned chipotles in adobo sauce
8 tortillas
1 medium avocado
cilantro
1 lime
sea salt and freshly ground black pepper
7 ounces full-fat Greek yogurt
1 chipotle pepper (from the can used above)
1 small garlic clove
1 teaspoon fresh lime juice
1 teaspoon extra-virgin olive oil
1 teaspoon honey
sea salt and freshly ground black pepper
Directions
Preheat the oven to 400°F (200°C).
Line a large baking sheet with parchment paper. Add the cauliflower and drizzle with olive oil and a pinch of salt and pepper. Toss to combine. Working over the baking sheet, use your hands to break up 2 chipotle peppers, along with some of the adobo sauce. Toss again to coat the cauliflower and roast for 25 to 30 minutes, or until golden brown.
Make the chipotle yogurt sauce: In a small food processor, combine the yogurt, chipotle pepper, garlic, lime juice, olive oil, honey, and a pinch of salt. Blend until smooth. Taste and adjust the seasoning, adding more salt, pepper, and lime juice as desired.
Fill each tortilla with a spoonful of sauce, the roasted cauliflower, and a slice of avocado. Serve with the cilantro and lime slices on the side.