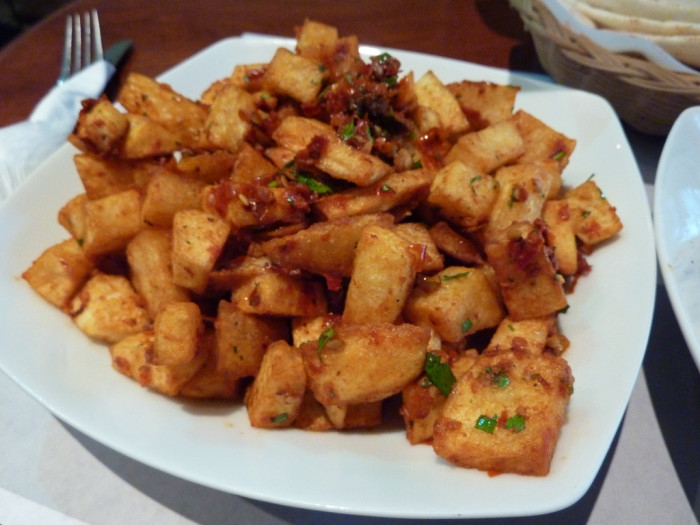 The luxury travel company Abercrombie & Kent brings visitors to exotic destinations around the world. One of the most popular countries for A&K guests is Egypt, which is where this spicy potatoes recipe originated.
You can find variations of this dish at street stalls in Cairo's busy streets, but in this case, the recipe comes from A&K's Egyptian chefs, who use this preparation in cooking classes during excursions on their Nile cruise ships, the Sun Boat III and IV, and the Sanctuary Nile Adventurer.
We highly encourage cruising down the Nile while cooking spicy potatoes on an Abercrombie & Kent ship, but this recipe's exotic spices can be found in almost any corner store, making it an Egyptian dish that's great to make in your own kitchen.
Ingredients
2

lbs.

red potatoes, peeled and thickly sliced

1

small

onion, grated

1

medium

onion, thinly sliced

3

tablespoons

extra virgin olive oil

1/3

cup

tomatoes, grated

1/4

teaspoon

ground ginger

1/4

teaspoon

paprika

1

pinch

ground cumin

1

teaspoon

garlic, crushed

3

bay leaves

1/2

fresh lemon

2

tablespoons

chopped flat leaf parsley

2

tablespoons

fresh cilantro, chopped

1/2

teaspoon

salt

1/4

teaspoon

dry saffron threads

20

black olives, pitted

1/2

preserved lemon
Directions
1. Peel the potatoes and then thickly slice and place in a bowl of cold water. Set aside.
2. Place a saucepan on medium heat, add olive oil, and proceed to cook the grated onions for about 4 minutes until they are almost melted. Add the tomato, ginger, paprika, cumin, and garlic to the onions and cook for a further two minutes.
3. Drain the potatoes from the cold water, and then add them to the saucepan mixture. Add to that the thinly sliced onions, the bay leaves and the fresh lemon half. Add the parsley and cilantro and salt (to taste). Toss all to make sure the potatoes are fully coated. Add the saffron, and 1 1/2 cups hot water. Bring to the boil. Reduce the heat to low and simmer until the potatoes are tender, which should be about 40-45 minutes.
4. Use a slotted serving spoon to transfer the potatoes to a serving dish — cover and keep warm. Dispose of the lemon. Add the olives to the liquid that has remained in the saucepan and boil until the pan juices are reduced to a thick sauce. Adjust the seasoning to taste, and then pour over the potatoes in the serving dish. Garnish with the ½ preserved lemon.