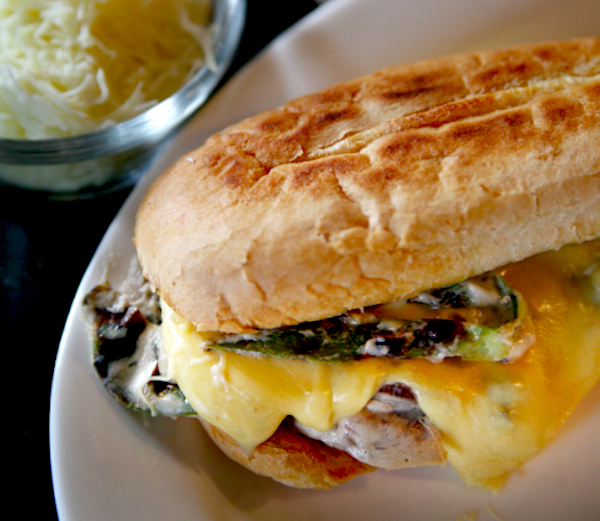 Tortas are quick and easy sandwiches made with bolillos. You can make them cold or grill the bread before stuffing. This grilled mushroom torta oozes creaminess, and the addition of long green chiles and tequila gives it just the right dimension of smokiness. The tequila notes linger on one's tongue just long enough to taste the fumes from the agave in the tequila. Don't worry, the alcohol dissipates during cooking. Give this torta a try on a cold winter night or cool summer evening.
Ingredients
2

tablespoons

salted butter, divided

1/2

tablespoon

olive oil

1

cup

mushrooms, sliced

salt and ground black pepper to taste

5

tablespoons

sour cream

3

Anaheim chiles, roasted, peeled and cut into 1/2-inch strips (see directions for how-to link)

3

teaspoons

tequila (optional)

1/2

cup

queso quesadilla, shredded

2

bolillo rolls (Mexican oval sandwich rolls) or French bread rolls

1

avocado, sliced (optional)
Directions
Melt 1 tablespoon butter with olive oil in a medium skillet over medium heat. Stir in mushrooms and sauté for 10 minutes or until tender. Add salt and pepper to taste.
Add the sour cream and chile strips and cook until warm. Completely remove pan from heat.
Carefully add tequila. Return to heat and simmer, uncovered, for 1 minute or until most of the tequila has dissipated. Stir in ¼ cup cheese until melted. Set mixture aside.
Preheat a comal (griddle) or panini press. Split rolls in half and coat both the inside and the outside of each roll with the remaining butter. Brown the inside of each roll.
Layer the bottom roll with the warm mushroom and chile mixture, top with some shredded cheese, and add the top half of the roll.
Grill the sandwiches over moderate heat, turning once until the bread is lightly toasted and the cheese has melted, 5 to 6 minutes. If using a panini press, close the lid and press down slightly using even pressure. Most sandwiches cook perfectly on a panini press in 2 to 3 minutes.
More Mexican recipes on Food Republic: