Spicy Grilled Jerk Pork Chops Recipe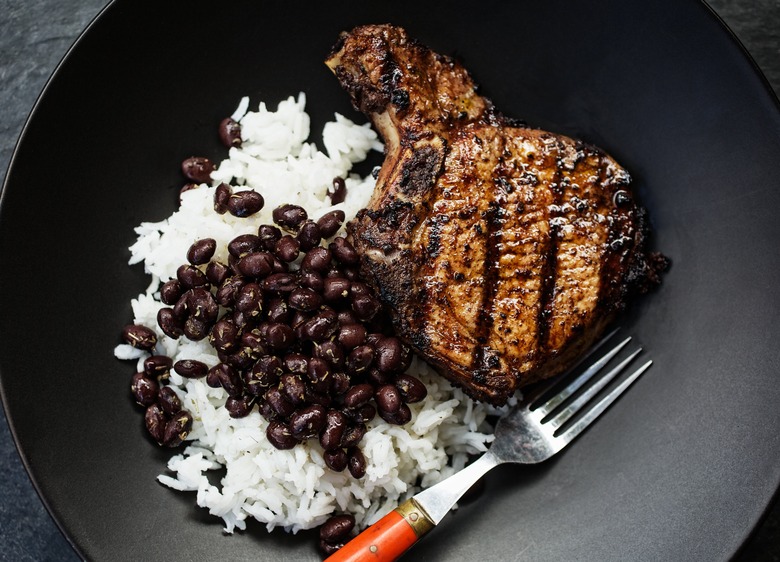 Do your pork chop the Jamaican way. (Photo: Jody Horton.
We may receive a commission on purchases made from links.
Straight from "Dr. BBQ" himself, the awesome book Pork Chop by Ray Lampe deals with one often-overlooked main ingredient: the humble pork chop. Whether they're cut thick or thin, bone-in or out, this versatile and delicious cut of pig is something we're more than willing to read a whole book on. Especially when things get spicy.
Jerk is the classic Jamaican spice for grilling and it's a big bold smoking-hot taste. I've used three chiles for this to create a medium heat level by jerk standards. Add or subtract to taste, but remember: If it's not hot, it's not jerk. Always wear food-service gloves when handling chiles because they can hurt if you get some under a nail or touch your eye. The classic sides to serve with this are rice and beans.
Spicy Grilled Jerk Pork Chops Recipe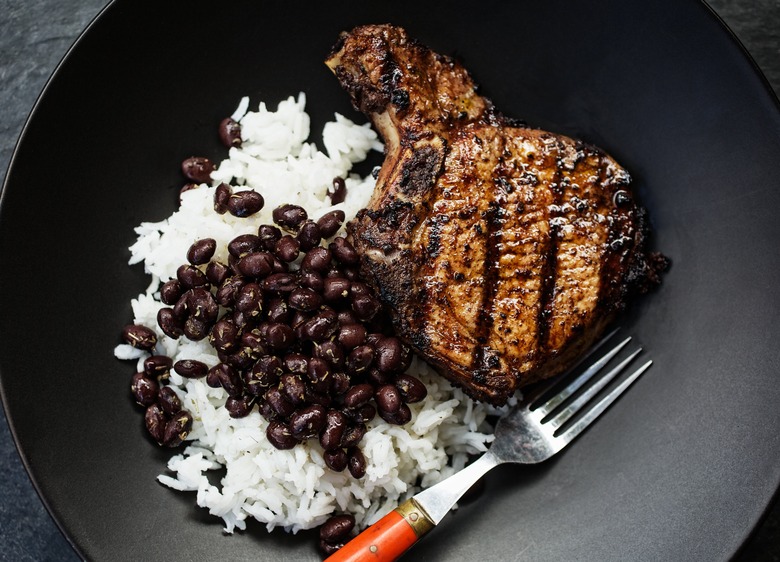 Ingredients
6 bone-in pork chops
1 large onion
12-16 scallions white and some green parts coarsely chopped
10 garlic cloves
3 Scotch bonnet chiles (or habaneros)
1/4 cup ground allspice
3 tablespoons salt
1 tablespoon smoked paprika
1 teaspoon ground cinnamon
1 teaspoon ground nutmeg
1 teaspoon ground dried thyme
1/4 cup soy sauce
1/4 cup vegetable oil
1/4 cup white vinegar
Directions
Place the onion, scallions, garlic and chiles in the bowl of a large food processor fitted with the metal blade. Top with the allspice, salt, paprika, cinnamon, nutmeg and thyme. Pour in the soy sauce, vegetable oil, vinegar and 1/4 cup water. Pulse to break everything down and then process for about 30 seconds, until all the big chunks are gone. Put the jerk paste in a big nonreactive bowl.
One at a time, dredge the pork chops in the paste, leaving them in the bowl when fully covered. Cover the bowl and refrigerate for at least 1 hour and up to 8 hours.
Prepare an outdoor grill to cook direct over medium heat. Using cooking gloves to handle the pork, pull each chop out of the paste and place it directly on the grill grate, keeping as much paste on the chop as possible. Discard the remaining paste. Cook for 4 to 5 minutes per side, until the chops are golden brown and have reached an internal temperature of 150°F. Transfer them to a platter and tent loosely with aluminum foil. Let them rest for 5 minutes before serving.
Chicago-Style Pork Chop Sandwiches Recipe
Pork Chop-Stuffed French Toast Recipe
Pork Chops With Cherry Mustard Recipe