Spicy Eggplant, Tomato And Garlic Salad Recipe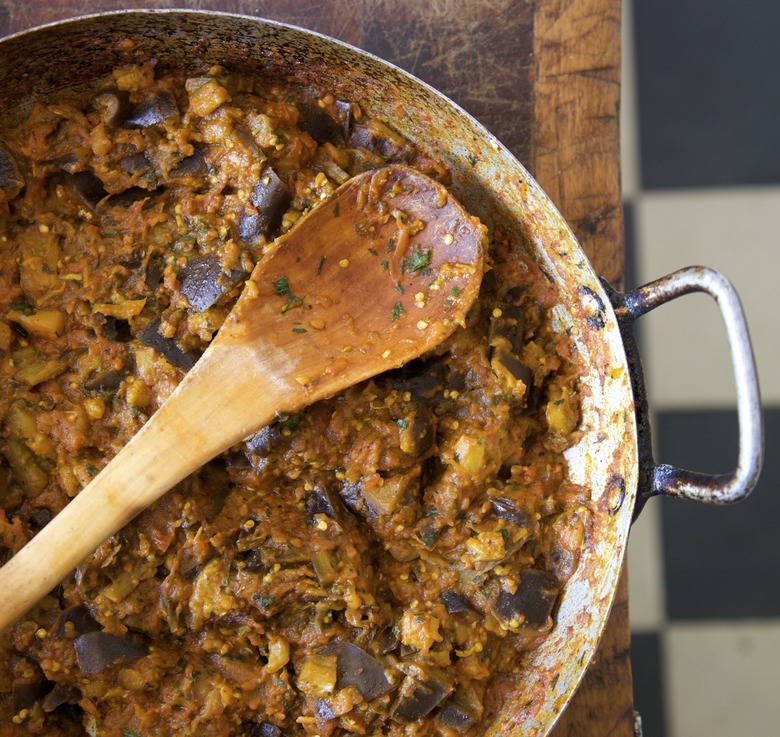 Photo: Jeff Koehler
Morocco's most classic cooked salad, zaalouk, is surely its most popular. This dish can be served cold, warm or at room temperature. For a smoky flavor, stir in some chopped, flame-roasted sweet green Italian or bell peppers.
Try serving it alongside a slow-cooked tagine like Golden Chicken with Potatoes and Chickpeas or Cinnamon Lamb with Apricots.
Spicy Eggplant, Tomato And Garlic Salad Recipe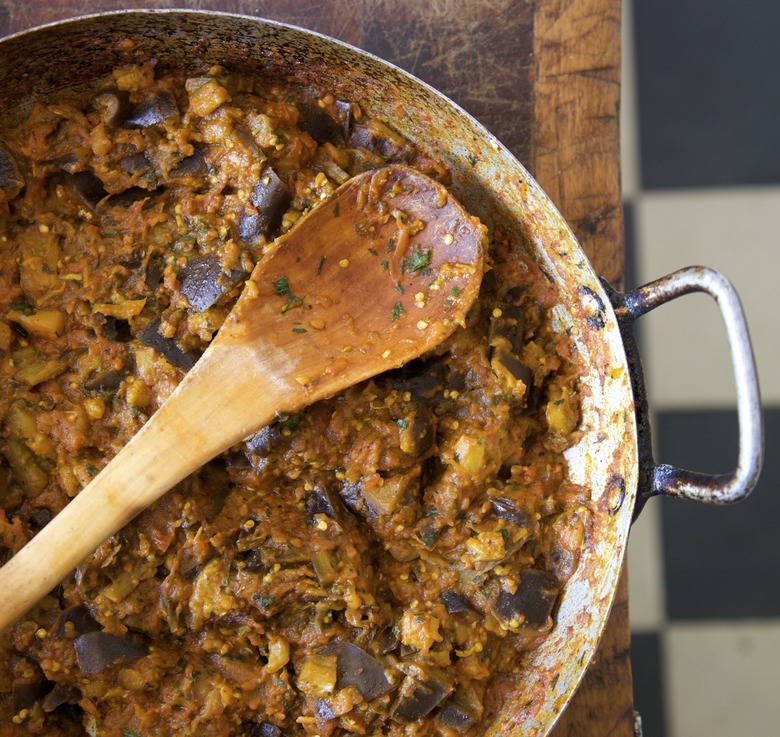 Ingredients
3 medium eggplants
6 unpeeled garlic cloves
1/2 cup extra virgin olive oil
3 ripe medium tomatoes
1/5 tablespoon sweet paprika
1 pinch cayenne pepper
salt
freshly ground black pepper
1 tablespoon finely chopped fresh flat-leaf parsley
Directions
Trim each eggplant. Using a vegetable peeler or knife, remove a strip of skin, then leave a band of skin in place, and then remove another strip of skin, and so on. Quarter the eggplant lengthwise and then cut into 1 to 1 1/2 inch pieces. 
Put the eggplant and garlic in a steamer basket over at least 2 inches of water in a saucepan. Cover the eggplant snugly with foil and bring the water to a boil over high heat.
Steam the eggplant until soft, about 25 minutes. Remove the garlic and let cool. Squeeze the garlic from the peels; discard the peels. 
In a large skillet or saute pan, heat the olive oil over medium heat and add the tomatoes, garlic, paprika, and cayenne. Season with salt and pepper.
Cook, stirring frequently, until the tomatoes are a deeper red and pulpy, about 10 minutes. Stir in the eggplant.
Cover and cook over medium heat, stirring and mashing down the ingredients frequently until pasty, about 20 minutes. 
Taste for seasoning and adjust as needed. Transfer to a serving bowl. Scatter with parsley and serve.