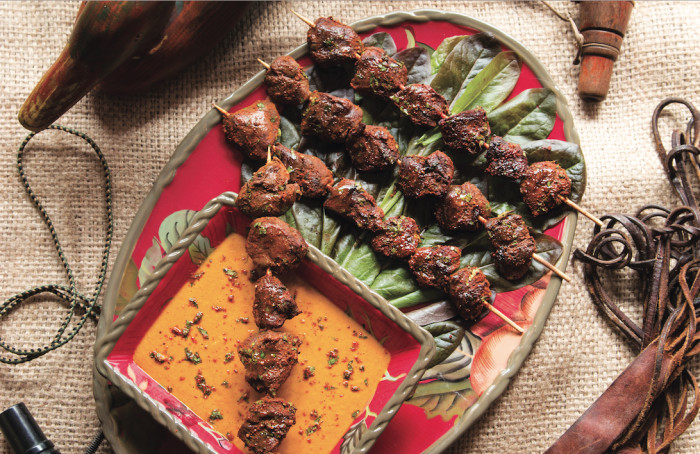 Don't say "farm to table" unless you really mean it! For those who practice the age-old survival methods of foraging and hunting (now vastly more fun as a hobby than as a matter of life and death), there is food writer Susan L. Ebert's new cookbook. If you're looking to discover your inner outdoorsy side, pick a recipe and a gun, rod or sturdy pair of gardening gloves and get ready to cook from scratch. 
If you find yourself with skinless duck breasts, try a South American twist: Sixteenth-century Spanish conquistadors delighted in Peru's delicious anticuchos — spicy skewers of grilled beef heart. I've discovered that these are even more delicious made of wild duck. The popularity of anticuchos has spread from the Andean states, where they're found on street-food carts and in street-food stalls, and into Texas and the Southwest, where we've fallen in love with the dish's sunny, aromatic dipping sauce, spiked with cumin and turmeric.
Ingredients
4

teaspoons

smoked paprika

2

teaspoons

ground cumin

2

teaspoons

ground turmeric

2

teaspoons

sea salt

2

teaspoons

freshly ground black pepper

2

pounds

skinless duck breast, trimmed and cut into 3/4-inch chunks

4

tablespoons

red wine vinegar

2

yellow bell peppers

1/3

cup

chopped green onions (chopped from the bottom third of the onions)

2 1/2

tablespoons

distilled white vinegar

1 1/2

tablespoons

olive oil

juice of 1 lemon

2

cloves

garlic, chopped

1/4

cup

finely chopped fresh flat-leaf parsley
Directions
For the skewers
Blend the smoked paprika, cumin, turmeric, salt and pepper thoroughly in a small bowl. In a separate large bowl, combine the duck cubes, red wine vinegar, and half of the spice mixture and toss with your fingers to coat the meat. Cover and refrigerate for at least 3 hours or up to a day. Meanwhile, soak eight wooden skewers in water until you are ready to cook.

Make the salsa amarillo: If you have a gas range, blister the yellow bell peppers over a flame, turning them with tongs until they are scorched on all sides. If not, cut the peppers in half, remove the ribs and seeds, and arrange on a baking sheet, skin-side up. Broil them for 8 to 10 minutes, until the skins blister and begin to blacken. Using tongs, place the still-hot peppers in a small bowl, cover tightly with plastic wrap, and "sweat" them for 10 to 15 minutes.

Remove the blackened skin and any remaining seeds under a stream of cool water, and coarsely chop. Combine the peppers and half of the remaining spice mixture (a quarter of the original mixture) with the green onions, distilled white vinegar, oil, lemon juice, garlic, and 1 tablespoon water in a blender. Process until smooth, then pour into a small serving bowl. Cover and hold at room temperature until ready to serve.

Thread the duck chunks onto the wooden skewers, blend together the parsley and the remaining spice mixture, and press the rub evenly into the meat. Grill on a 350° to 375° F charcoal or gas grill for about 2 minutes per side to medium-rare doneness, turning only once. Serve with the salsa amarillo.