Spicy Cheese-Stuffed Fried Olives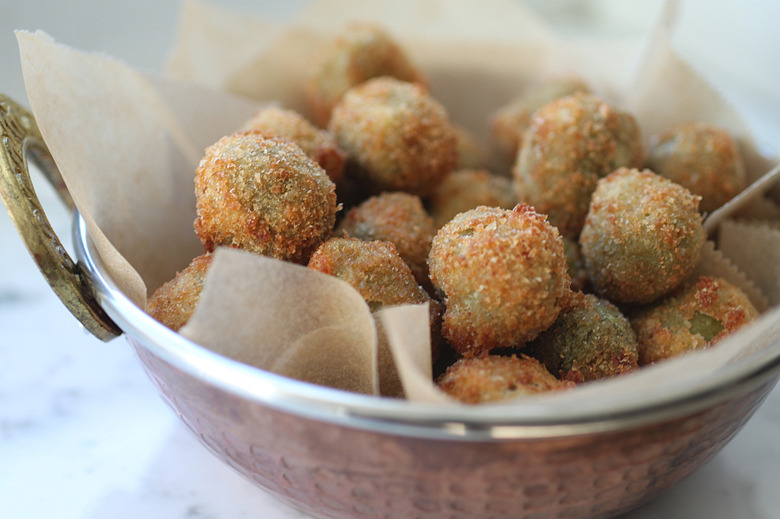 These nuggets of flavor are sure to have you craving more. (Photo: Aliya LeeKong.
Fried olives may have originated in the Le Marche region of eastern Italy. There, they take pancetta, ground meats, cheese, herbs and spices and stuff large green olives, breading them and then deep-frying them to a golden crisp. Olive all'Ascolana is the name of the dish.
I felt a slightly North African take on this tradition would be delicious. I stuffed them with a spicy, harissa cream cheese before rolling them in breadcrumbs laced with freshly grated Parmigiano-Reggiano. A bit of tang from the cream cheese, some fiery heat from harissa, a touch of sweetness from honey — the briny olives become even more complex and with a deeply satisfying, deep-fried crunch. If you have never tried fried olives, now is your chance. They are incredibly easy to make and work for everything from a movie night to an elegant hors d'oeuvres for a dinner party. Enjoy!
Aliya LeeKong is Culinary Creative Director and Chef at Junoon in NYC.
Spicy Cheese-Stuffed Fried Olives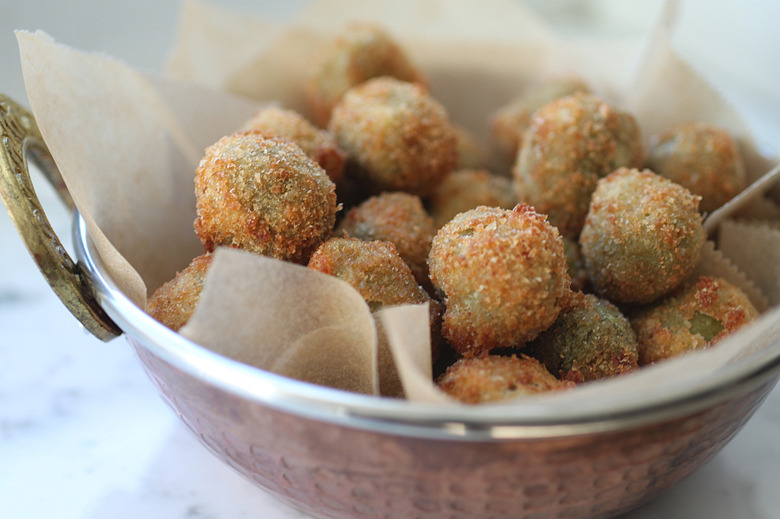 Ingredients
2 tablespoons ricotta cheese
2 tablespoons cream cheese
2 tablespoons Harissa
2 teaspoons honey
50 large pitted green olives
1/2 cup panko or plain breadcrumbs
1/4 cup parmesan
1/4 cup flour
1 egg beaten
oil
fleur de sel
Directions
In a bowl, mix together ricotta, cream cheese, harissa, and honey until uniform. Transfer to a pastry bag fitted with the smallest pastry tip you have. You can also use a Ziploc bag to do this, and use scissors to cut off a small piece of the corner of the bag. Pipe filling into all of the olives.
Set up a dredging station. Mix together the breadcrumbs and parmesan in one bowl. Place the flour in another and the beaten egg in between. Roll the olives in the flour and dust off any excess. Dip into the egg and then roll in the parm-breadcrumb mixture until all are coated.
In a Dutch oven or pot, heat 3 to 4 inches of oil to 360° F. Carefully, drop olives into the oil, working in batches depending on the size of your vessel. Fry until a deep golden brown and remove to a paper towel-lined plate. If the olives are not too salty, sprinkle with a little fleur de sel.
Let cool slightly before serving / eating.