Spiced Stilton, Cheddar And Kimchi Melt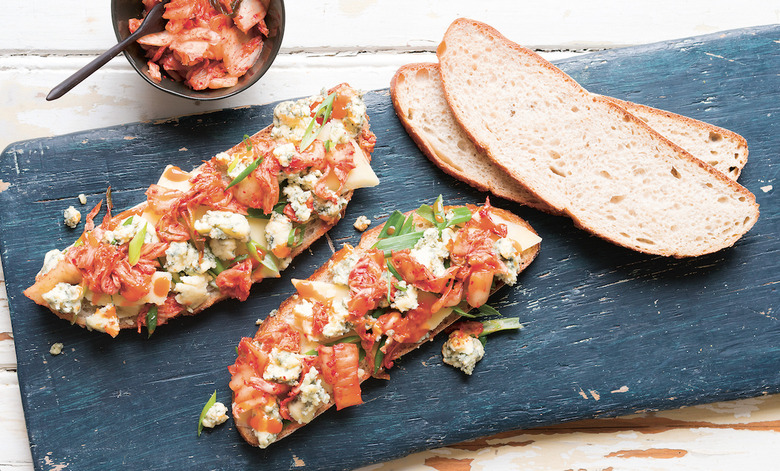 We may receive a commission on purchases made from links.
Any time we see a cookbook devoted to the fine art of grilled cheese, we get very excited. British author Fern Green takes a deep-dive into one of the most sought-after comfort foods we've ever known, with variations from vegetarian and fruit-adorned to the wonderfully meaty and everything in between.
This spiced stilton, cheddar and kimchi melt is not for the faint-hearted, but if you are willing to try it you are bound to love it!
Spiced Stilton, Cheddar And Kimchi Melt
Strong flavors unite in this sandwich from British author Fern Green's new cookbook, Melt. Try to make it and see if your tastebuds are up to the task.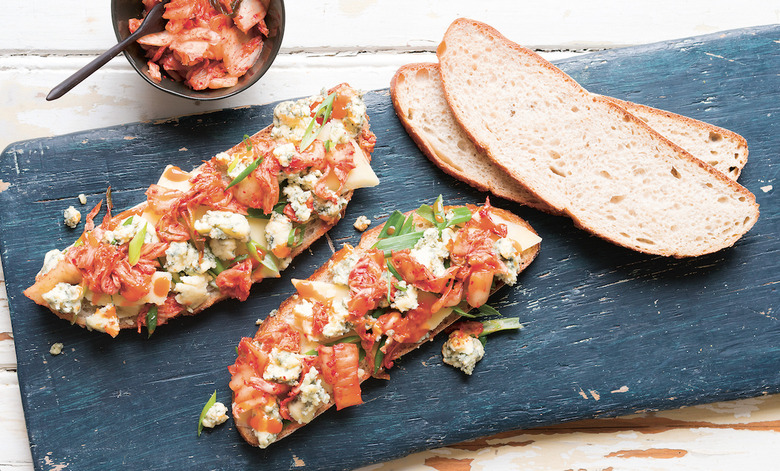 Ingredients
1 tablespoon butter
2 slices white sourdough bread
1 teaspoon Sriracha
1/4 cup grated mature Cheddar
1 ounce Stilton or other blue cheese
2 1/2 ounces kimchi
1/2 spring onion
Directions
Spread the butter onto one side of both slices of bread and place them butter-side down on a plate. Drizzle the sriracha over one slice, then layer on the Cheddar, Stilton, kimchi and spring onion. Top with the second slice of bread, butter side face up.
Heat a griddle pan or heavy-based frying pan (skillet) over a medium heat. Lay the sandwich in the pan and press down with a spatula. Cook for 3 minutes, then flip over and cook for a further 3 minutes or until the outside is golden and the cheese has melted.
Alternatively, cook the sandwich in a toasted sandwich maker or a panini press. Slice in half and serve.