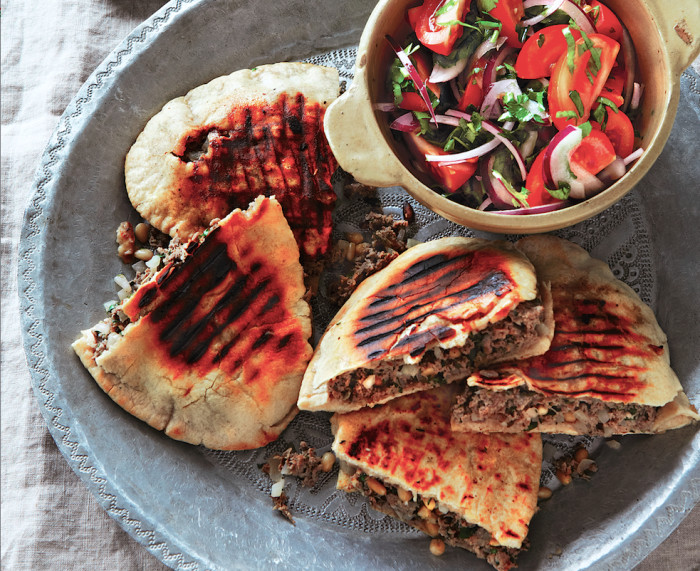 If the vast world of spices, whole and ground, seems a little exotic to you, pick up a copy of chef and cookbook author Paul Merrett's Spice Odyssey. Learn the basics of commonly used spices, then branch out and apply your knowledge to dishes from everyday classic to never-before-seen global specialties. Ready to make your new favorite sandwich? Particularly if you've had a few beers?
Two Tuesdays ago I drank far too much beer. I was out with a couple of friends, both of whom are chefs, and as we staggered out of the pub at closing time one of them suggested that it would be 'sensible' to head home via the Middle Eastern take-out place. I chose a dish called arayes kafta. The next morning I made two solemn pledges — to never ever drink beer again, and to revisit that Middle Eastern take-out and eat the same thing, but this time without the preceding 10 beers. I've kept one of the two pledges — I've been back to the take-out and eaten arayes kafta, which again really hit the spot, but this time I was sober enough to remember exactly what I'd eaten.
So much Middle Eastern cuisine is interwoven and reinterpreted from country to country, but Lebanon appears to get the credit for arayes kafta. Basically it's a toasted sandwich with a spicy meat stuffing. Many recipes ask you to use baharat spice, which you can track down on the internet, but basically baharat is an Arabic spice blend that can be made using spices you may well already have in your pantry. This makes a great barbecue meal, an easy hot light lunch, or the most incredible dish ever eaten by a drunk guy at a bus stop.
Ingredients
Baharat Spice
8

cardamom seeds

1

teaspoon

coriander seeds

1

teaspoon

cumin seeds

2

cloves

1

teaspoon

ground allspice

1/2

teaspoon

ground black pepper

1/2

teaspoon

ground cinnamon

pinch of

freshly grated nutmeg

1/2

teaspoon

chile powder
Spiced Lamb
1

pound

ground lamb

1

onion, very finely chopped

2

cloves

garlic, finely chopped

1

teaspoon

salt

1

tablespoon

flat-leaf parsley, chopped

1/3

cup

pine nuts, toasted and ground

4

pita breads

1

tablespoon

olive oil
To Serve
tomato wedges

red onion slices

flat-leaf parsley, chopped

olive oil

lemon juice
Directions
To make the baharat spice, grind the cardamom, coriander and cumin seeds, and the cloves to a powder in a mortar and pestle.
Tip into a bowl and add the remaining spices.
Mix everything up, transfer to a jar and store until needed.
Put the ground lamb into a bowl and add the onion, garlic, salt, 2 teaspoons of the baharat spice, the parsley, pine nuts and lemon juice.
Mix well and use your hands to squelch and squeeze everything together.
Slice the pita breads open and put a decent dollop of the lamb mixture inside each one, flattening the mixture to a thickness of less than an inch.
Close the pitas and push down so that the meat is fully covered by the bread.
Heat a grill pan over medium heat and add the oil.
Gently cook the pita sandwiches on both sides until the pita is nicely toasted and the meat inside is cooked through.
Serve with a simple salad of tomato wedges, red onion and flat-leaf parsley dressed with olive oil and lemon juice.
Find more delicious lamb dishes on Food Republic: