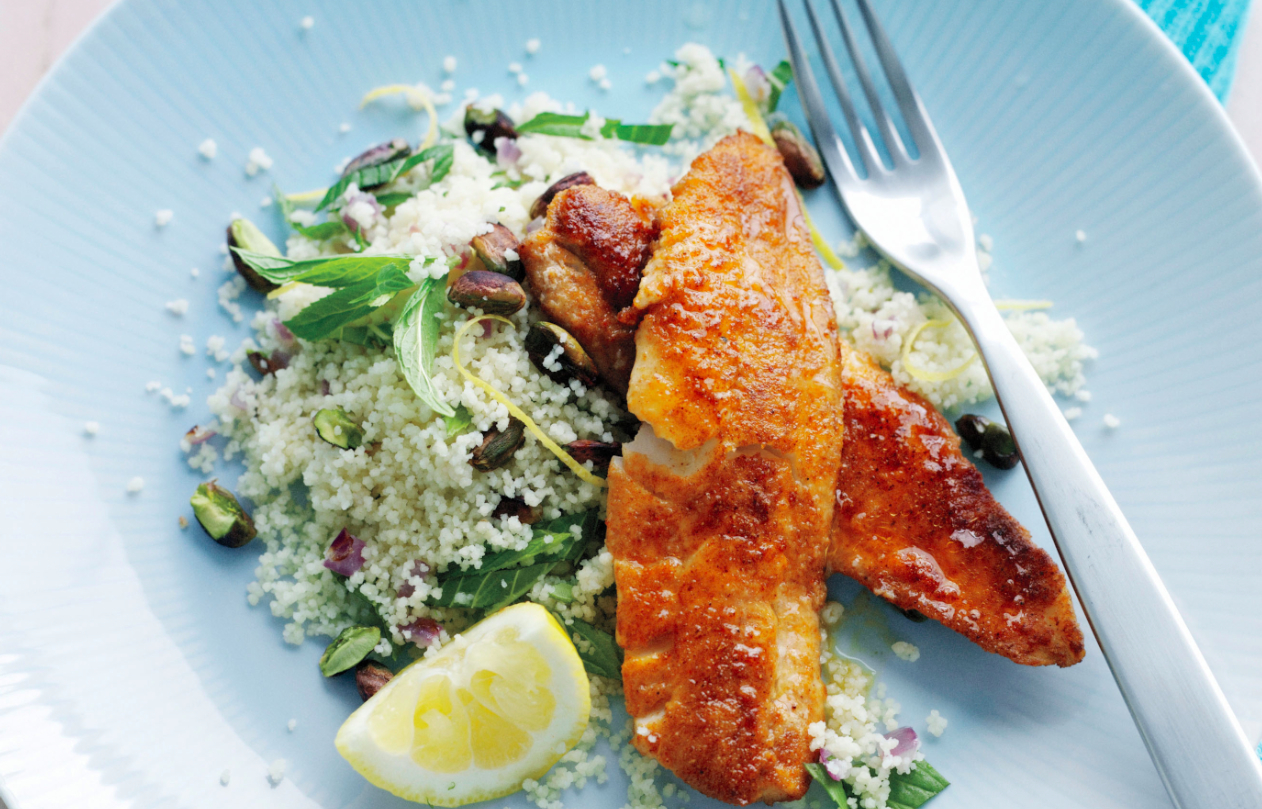 When it comes to the basics, look no further than a cookbook by renowned Test Kitchen master Pamela Clark. Her simple, triple-tested recipes are delicious and genuinely foolproof, two things you'll want to consider when tackling fried fish. The lemon pistachio couscous is a bright, flavorful side that serves as the perfect background to the spicy fish.
Ingredients
Fried Fish
1

tablespoon

all purpose flour

1 1/2

teaspoons each

ground coriander and cumin

1

teaspoon

sweet smoked paprika

1/4

teaspoon

cayenne pepper

8

white fish fillets (6 ounces each)

1

tablespoon

olive oil

1

lemon, cut into 8 wedges
Lemon Pistachio Couscous
1

cup

couscous

3/4

cup

boiling water

2

teaspoons

fresh lemon zest

1/4

cup

lemon juice

2

teaspoons

olive oil

1

small red onion, finely chopped

1

clove

garlic, crushed

1/2

cup

roasted unsalted pistachios, shelled

1/2

cup

fresh mint, coarsely chopped
Directions
For the couscous:
Combine couscous, the water, zest and juice in medium heatproof bowl and cover.
Stand about 5 minutes or until liquid is absorbed, fluffing with fork occasionally.
Heat oil in small skillet. Cook onion and garlic, stirring, until onion softens.
Stir onion mixture, nuts and mint through couscous, season to taste.
For the fried fish:
Combine flour and spices in medium bowl.
Add fish to the bowl, rubbing the spice mixture all over.
Heat oil in large skillet. Cook fish, in batches, until browned and cooked as desired. Serve fish with couscous and wedges of lemon.
For assembly:
Serve fish with couscous and wedges of lemon.
Find more fried fish recipes on Food Republic: