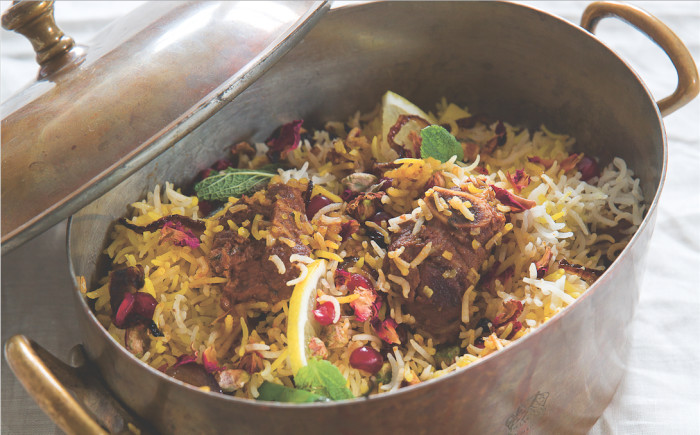 Contemporary Pakistani food is a vibrant mix of Arabic, East Asian and Indian flavors that shine in food writer and author Sumayya Usmani's new cookbook, Summers Under the Tamarind Tree. Beautifully written and photographed, this collection of more than 100 family recipes will inspire you to open up the spice cabinet and make something brand-new.

Sindhi biryani is by far the most aromatic and spicy biryani in this book, though the addition of potatoes, sour dried plums and dried pomegranate takes the edge off. This dish should take center stage on the celebratory dining table, and while the ingredients list is long and it must be cooked with dedication, it's a wonderful and worthwhile dish to make for a special occasion. Traditionally the rice and curry is layered twice, but I find that once is enough.

Reprinted with permission from Summers Under the Tamarind Tree
Ingredients
3-4

large potatoes, peeled and cut into thick chunks

Scant 1/4

cup

vegetable oil

6

green cardamom pods

2

black cardamom pods

1

cinnamon stick

2

bay leaves

2

teaspoons each of

coriander (cilantro) seeds and black cumin (or cumin) seeds

1

teaspoon

aniseed or fennel seeds

2

star anise

1

piece of

mace

4

medium red onions, finely chopped

2

teaspoons each of

grated ginger and crushed garlic

2 1/4

pounds

mutton leg, cut into chunks, with bone

5

tomatoes, roughly chopped

1

teaspoon

ground turmeric

1

tablespoon

ground anardana (dried pomegranate)

salt, to taste

10-15

dried plums (aloo bukharas)

2

green chilies, chopped

Scant 1

cup

Greek yogurt
To steam
1

tablespoon

kewra (screwpine water) or rose water

2

large pinches of saffron threads

1

tablespoon

ghee

1

lemon, cut into slices

A few

mint leaves
Directions
For the biyrani
Parboil the potatoes in a large saucepan until par-cooked, then drain. Set aside. Wash the rise, rinse and soak it in a bowl of water for 1 hour, then drain and parboil for 3-4 minutes and drain. Soak the saffron threads in another bowl of hot milk for 15 minutes.

Heat the oil in a saucepan with a lid over a medium heat. Add the whole spices and allow to splutter. Add the onions and cook for 8-10 minutes until light brown. Add the ginger and garlic paste and cook until the raw smell disappears. Add the mutton and fry until it is sealed all over. Add the tomatoes, turmeric, dried pomegranate powder, salt, dried plums and green chili and cook over a medium-high heat, stirring constantly for about 10 minutes, or until the oil rises to the top and the tomatoes are soft.

Add the yogurt and cook for about 10-15 minutes, stirring constantly, until the oil rises to the surface of the curry. Cover with a lid and cook for a further 10 minutes. You should be left with a thick curry with oil rising on the top. If it gets too thick, add a few splashes of water and reduce the heat to low until the oil rises back on the top. Add the parboiled potatoes; at this point the meat should also be cooked through.

Layer the parboiled rice on top of the meat in the pan, then sprinkle the kewra, saffron and ghee over the top. Add lemon slices and mint. Cover the pan with foil firmly around the edges, cover tightly with the lid, reduce the heat to low, and let it cook in its own steam for about 10-15 minutes. If you have a heat diffuser it will help the rice steam evenly. The key is that when you remove the foil, steam should rise to the top and the rice should be standing on end. Anything further and the rice will be overcooked. When ready, using a dessert spoon, stir the rice into the layers carefully so as not to break the rice. Serve hot with a simple raita, such as hibiscus and Himalayan pink salt raita.