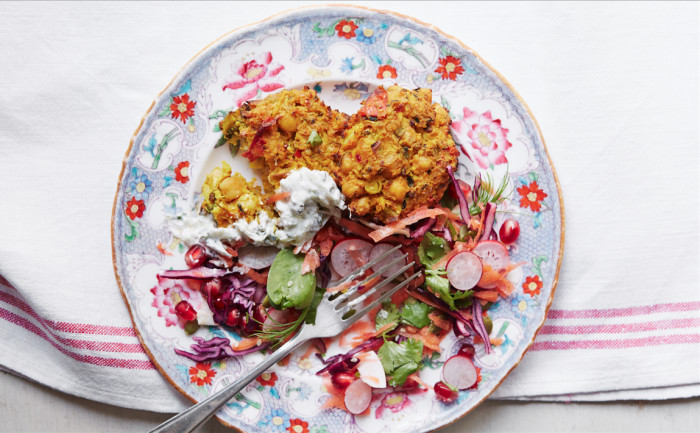 Alternative baking is the new baking! Whether you're eschewing grains, dairy or sugar (or in the case of this book, all three), Clean Cakes has a sweet or savory baked confection for you. Enlist the help of British pastry chef Henrietta Inman and an expanded pantry to reap the benefits of extra-friendly goodies everyone can enjoy. 
These spicy savory cakes with the fresh-flavored raita make a very satisfying midweek supper. I like to serve them with a colorful salad made from red cabbage, radish, pomegranate seeds, coriander (cilantro), grated carrot, coconut flakes, pumpkin and sesame seeds. Leftovers can be enjoyed for breakfast with poached eggs.
Ingredients
1

small red chili

8

spring onions (scallions)

2

large tomatoes

2

cloves

garlic, roughly chopped

3

tablespoons

fresh turmeric, roughly chopped

3

tablespoons

fresh ginger, roughly chopped

1/2

large cauliflower, florets only

1

tablespoon

coconut oil or extra-virgin cold pressed grapeseed oil

1

teaspoon

ground turmeric

1

teaspoon

yellow mustard seeds

1

teaspoon

fenugreek seeds

2

cups

cooked chickpeas

Scant 2/3

cup

coconut milk, plus more if necessary

Finely grated zest and juice of 1 lime

Scant 1/2

cup

coriander (cilantro), roughly chopped

2/3

cup

gram flour

Scant 1/4

cup

milled flax seeds

salt and black pepper
Lime and mint raita
1

cup

natural coconut yogurt

7

ounces

cucumber

Generous

handful

finely chopped mint

1

teaspoon

ground cumin

4

teaspoons

lime juice

Pinch

cayenne pepper, optional

Himalayan pink salt or coarse sea salt

black pepper
Directions
For the chickpea cakes
Preheat the oven to 400°F and line a large baking tray with baking parchment.

Finely chop the chili and spring onions (scallions) and cube the tomatoes. Using a pestle and mortar, grind the garlic, turmeric and ginger to form a rough paste. Pulse the cauliflower in a food processor until small pieces form resembling bread crumbs. You need 12¼ ounces in total.

In a large heavy-bottomed saucepan, heat the oil, then add the ground turmeric, mustard and fenugreek seeds. After a few minutes, add the chopped chili, onion and tomatoes and cook for about 5 minutes or until beginning to color. Add the garlic paste and continue to cook. When everything has softened and is colored, add the cauliflower and chickpeas, stirring to coat. Add the coconut milk, lime zest and juice. Heat until the coconut milk just begins to boil and then lower the heat and add the coriander (cilantro), gram flour, milled flax seeds and seasoning. Stir everything to combine on a low heat for a further 5 minutes. If it looks a bit dry, add a little more coconut milk. Remove from the heat, leave to cool slightly and check for seasoning.

To make the raita, put the yogurt into a medium-size bowl. Peel and grate the cucumber — you should get about 5½ ounces grated weight — and add to the yogurt. Add all the other ingredients, stir and season to taste, adding extra chopped mint and lime if you want.

Make the cauliflower chickpea mix into 18 small cakes in your hands. The mix will feel a little wet, but that's normal. Put the cakes onto the lined baking tray and bake for 10 minutes or until golden brown. Remove the tray from the oven, turn each cake over and bake for a further 10 minutes or until golden brown. The outer chickpeas become slightly crunchy while the inside stays perfectly soft. Serve warm with the raita.

The cakes and the raita will keep for five days in a sealed container in the fridge.