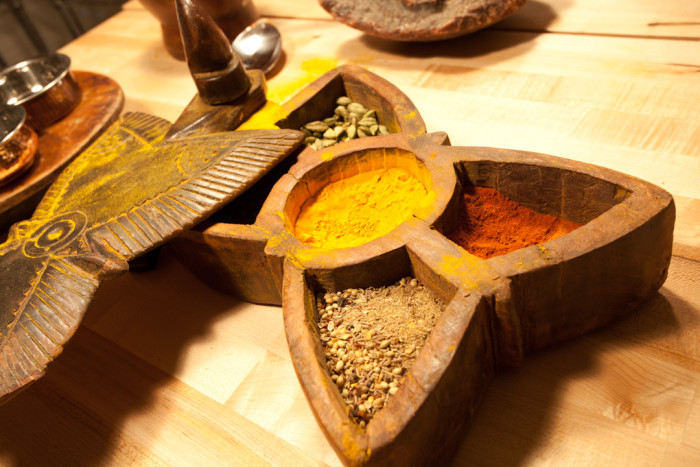 Ready to take that Indian dish to the next level? We hit up executive chef Vikas Khanna of the hot new Manhattan Indian restaurant Junoon—not to mention the guy that Eater readers recently voted the sexiest chef in NYC—for an easy method of adding flavor to dishes by infusing oil. The oil can be used as a marinade or even as a salad dressing and can be made well in advance of its use, and it's sure to put a little Punjab punch into whatever you're making.
Ever experimented with infused oils? Tell us about it in comments.
Ingredients
2

tablespoons

whole cumin seeds

3

tablespoons

whole coriander seeds

1

two inch piece

cinnamon stick

1/2

teaspoon

whole cloves

10

whole

green cardamom pods

5

bay leaves

1

tablespoon

ground tumeric

2

cups

grapeseed oil (or other mild oil), warmed to 150 degrees
Directions
In a medium sized heavy bottom pan over medium heat, combine the cumin, coriander, cinnamon, clove, cardamom and peppercorns and heat to toast about two minutes.
Remove from the heat and cool. Then pour the toasted spices into a clean, dry spice grinder with the bay leaves and turmeric and process until finely ground.
Pour the ground spices into a stainless steel container and slowly add the oil, stirring to combine and then cover the container tightly. Leave the oil in a cool, dark place to infuse for at least two weeks.
Strain the oil through a fine meshed strainer lined with cheesecloth and store in a cool dry place for up to one month.