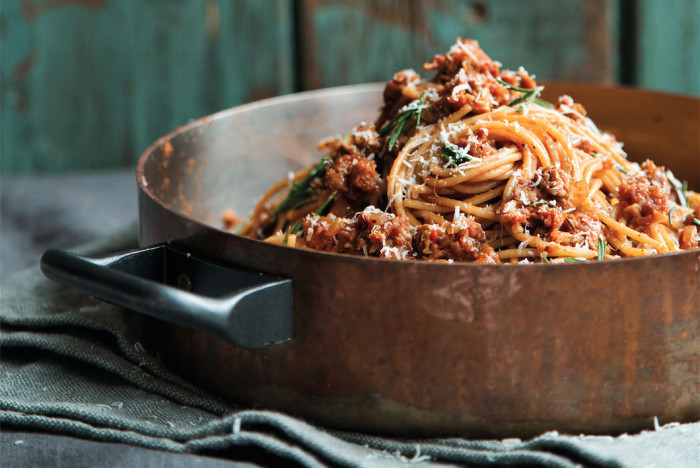 Your cookbook inventory is not complete without a volume or two from best-selling cookbook author and food writer Nancy Harmon Jenkins. The only thing better? A collection of pasta recipes cowritten with her daughter, Sara Jenkins, chef at NYC's East Village trattoria Porsena. Pick up your pasta pot and ready the extra-virgin olive oil: You know exactly what's for dinner tonight.  
Most commonly, an ancient type of wheat called spelt is called farro in Italy. In fact, a closely related rare wheat, in English "emmer," is correctly the botanical equivalent of farro. (Like the history of pasta, the untangling of grain types is a minefield.) Spelt was used long before our modern-day wheat because it was easy to grow in almost every region of Italy. But it is in Tuscany and Umbria that it is still used today, in modest quantities, in the making of both bread and pasta (and risotto-type dishes). The flavor of both pasta and bread is different, with a wholemeal characteristic that makes it less delicate and nuttier than ordinary wheat pasta. Combining spelt pasta with luganega, a tasty sausage originating from Greece, seems to be ideal.
Alternatives: Obviously the sauce would go with any spaghetti or other long pasta, or indeed with penne. If you leave the sausage in larger chunks, the sauce would be good served with polenta. Luganega sausages are available from good butchers or delicatessens.
Ingredients
12 1/4

ounces

dried spelt spaghetti pasta

Salt and pepper, to taste

3/4

cup

Pecorino cheese, freshly grated
Sauce
1

ounce

dried porcini, rehydrated

3

tablespoons

olive oil

3 1/2

tablespoons

unsalted butter

1

small onion, peeled and finely chopped

1/2

fresh hot red chili, finely chopped

8 3/4

ounces

sausage (luganega), meat removed from the skin and crumbled

7

tablespoons

white wine

2

tablespoons

tomato paste, diluted in 2 tablespoons of water

1

tablespoon

fresh rosemary needles
Directions
For the spaghetti
Soak the dried porcini for the sauce in hot water for 20 minutes, then drain, reserving the soaking water, and chop.

Heat the olive oil in a large saucepan with the butter, and fry the onion and chili briefly. Add the crumbled sausage and porcini, and fry and stir for 8 to 10 minutes. Add the wine and then cook for a further 2 minutes until the alcohol has evaporated. Add the tomato and rosemary and cook for another 10 minutes on a low heat. Season with salt and pepper to taste, and if more moisture is needed, add some of the porcini soaking water.

Meanwhile, cook the pasta in plenty of boiling salted water for about 10 to 15 minutes or until al dente (follow the packet instructions). Drain well. Mix with the sauce and divide between deep warmed plates. Sprinkle with the cheese and eat straightaway.