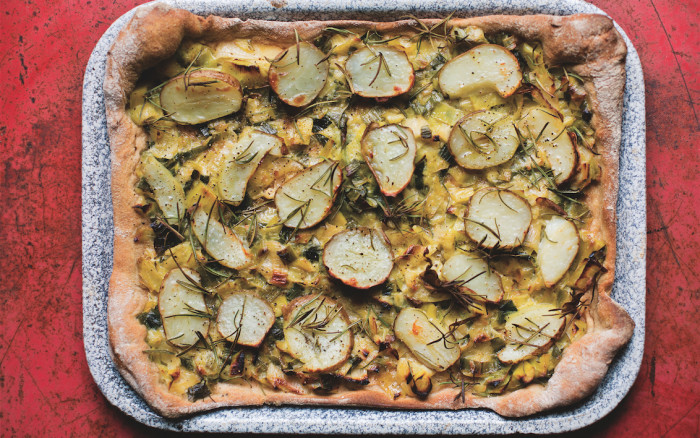 Celebrate, elevate and masticate those vegetables! Making food at home, keeping ingredients local and eating in season all helps reduce the carbon footprint of the food we eat, one of many lessons to learn in eco-chef Tom Hunt's new book, The Natural Cook. Fighting food waste and hunger is the name of Hunt's game, so if you're on his team, pick up a copy and prepare to redefine DIY. 
This is a twist on the classic potato pizza bianca, rather comically inspired by leek and potato soup. It works really well. It's very rich; the cream makes up for the lack of mozzarella.
Storage: The pizza is good eaten fresh, but is also great served cold for breakfast.
Cook natural: Spelt is an ancient grain that is more nutritious and digestible than regular wheat. Even those without an intolerance to wheat will feel the benefits of using spelt flour. It has a delicious nutty flavor and is easy to work with. It can be used to replace wheat flour in any recipe and works really well in pastries and bread. It is also savory and scrumptious as a whole grain used in pilafs and as an alternative to risotto rice.
Ingredients
Topping
1

quantity

Creamed leeks

2

potatoes (about 10 1/2 ounces), sliced 1/4-inch thick

3

sprigs

rosemary
Creamed leeks
14

ounces

leeks

4

tablespoons

butter

2

garlic cloves

3

tablespoons

white wine (optional)

1/3

cup

heavy cream
Spelt pizza dough
1 1/4

cups

spelt flour, or strong white flour, plus more to dust

1/2

teaspoon

dried yeast

1

teaspoon

fine salt

Glug of

extra-virgin olive oil, plus more for the topping

A little light olive oil
Directions
For the leeks
Slice the leeks into 3⁄8-inch [1-centimeter] pieces, using everything but the very darkest tops (compost those). Wash thoroughly. Heat a large skillet over medium heat, add the butter and the leeks, and sauté 10 minutes until soft. Roughly chop the garlic, add it to the pan, and sauté a further 2 minutes, then add the wine (if using), or 3 tablespoons water, and allow it to boil 2 minutes. Reduce the heat and add the cream. Stir occasionally 10 minutes, until the leeks are soft and the sauce has thickened.
For the pizza
First make the dough. Mix all the ingredients except the light olive oil together with 7 tablespoons [100 milliliters] warm water. Cover with a clean plastic bag and set aside to rest 30 minutes. Knead the dough 5 minutes, then rest for 1 1/2 hours to proof in a warm place.

When ready to cook, preheat the oven to its maximum temperature for a good 15 minutes, so that it's really hot. Boil the potatoes about 5 minutes, until they just soften. Drain and allow to dry. Toss with a splash of extra-virgin oil, salt, pepper, and the rosemary.

Oil a baking sheet with the regular light olive oil. Roll out the dough 1⁄16 to 1/4 inches [3 to 5 millimeters] thick on a lightly floured work surface, or to the rough size of the sheet. Fill the sheet with the dough. Spread with the creamed leeks, then place the rosemary and potatoes evenly on top. Drizzle with extra-virgin oil and bake 25 to 30 minutes, or until the base has browned and is cooked through.