Spanish Style: Make Cúrate's Cheese-Stuffed Fried Pork Chops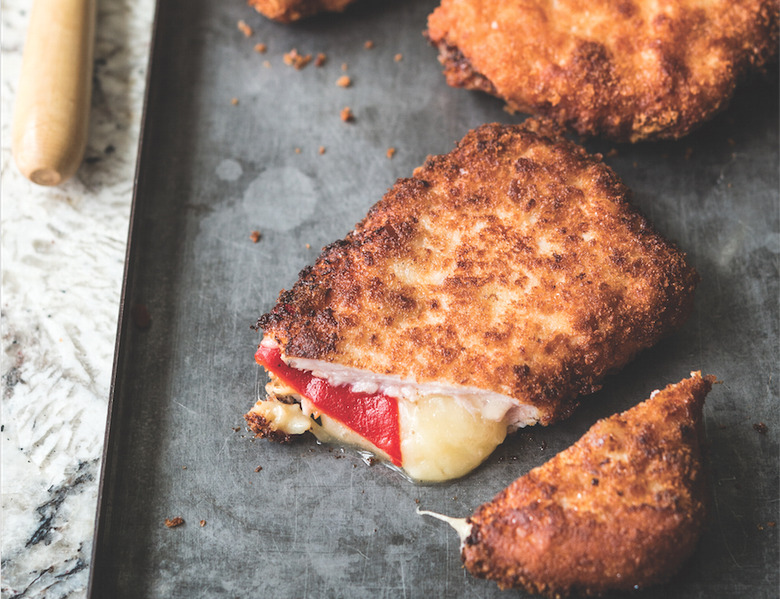 We may receive a commission on purchases made from links.
For masterful Spanish cooking you can replicate at home, look to chef Katie Button's new book, named for her Asheville restaurant. Cúrate is packed with 125 recipes from the classic to the modern, tapas and drinks to main courses and desserts, with plenty of surprises in between. 
These cheesy, crunchy pork chops are the most popular kid-friendly meal in Spain. They're usually thrown together with cheap, rubbery cheese, so I've decided to elevate it for discerning kids and all adults. I shave the cheese fresh from a block of Cordobés or Manchego and add piquillos to cut through the richness and bring some brightness in taste and appearance. Plus, vegetables. I like the pork-on-pork action with the chops and ham, but the same technique can be applied to skinless, boneless chicken breasts, too.
Spanish Style: Make Cúrate's Cheese-Stuffed Fried Pork Chops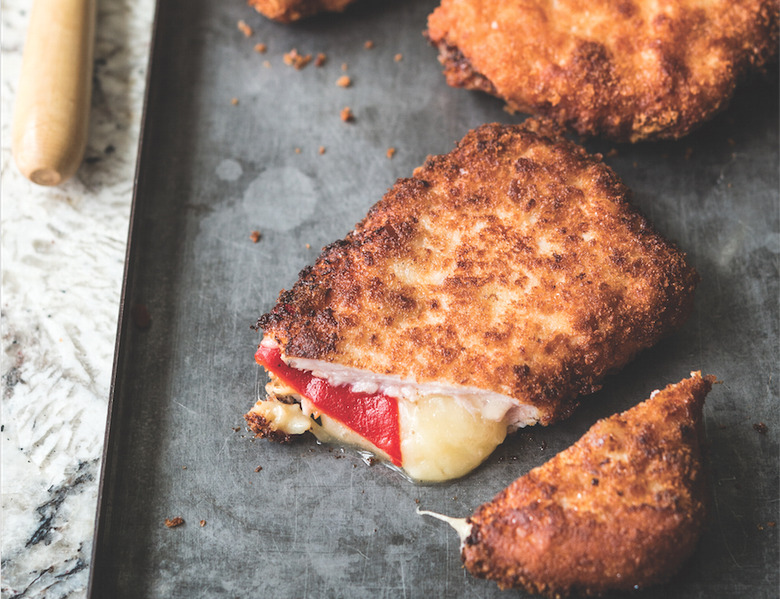 Ingredients
4 3/4-inch-thick boneless pork loin chops
Kosher salt and freshly ground black pepper
6 deli-thin slices black forest ham
3 ounces Cordobés or Manchego cheese
4 piquillo peppers
1/4 cup all-purpose flour
1 large egg
1 cup panko (Japanese breadcrumbs)
canola oil
Directions
Place each pork chop between large sheets of plastic wrap and pound with a meat mal­let, heavy skillet, or rolling pin until ⅛ inch thick. Season both sides of each chop with salt and pepper. Place 1½ slices ham on each chop in a single layer to cover the surface, then layer the cheese and piquillos on one half of each chop. Fold each chop in half like a book to enclose the cheese and piquillos.
Place the flour in a shallow dish, beat the egg in another, and spread the panko in a third. Carefully dredge all sides of the stuffed pork chops in the flour and shake off the excess. Then coat in the beaten egg and dredge in the panko. Tap off any excess crumbs.
Add enough oil to a large skillet to come ¼ inch up the sides. Heat over medium-high heat until hot. A panko crumb should sizzle immedi­ately when dropped in. Add 2 breaded chops and cook, turning once, until golden brown, about 3 minutes per side. Drain on paper towels and season lightly with salt. Repeat with the remain­ing pork chops and serve immediately.