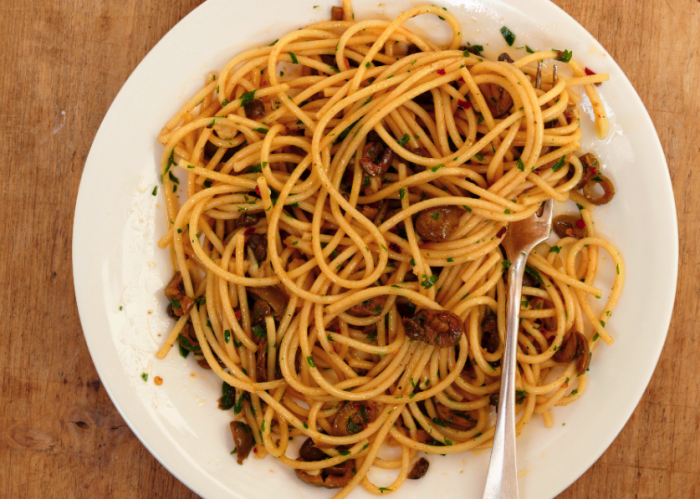 We're so happy Brooklyn cornerstone Franny's condensed their spectacular repertoire into one of the best cookbooks of the summer (along with these 6 must-reads). Prepare for homestyle Italian food of the finest quality, each recipe with its own quirky twist. This spaghetti with white (!) puttanesca sauce is destined to become one of our go-to easy pasta dishes.
This dish was a happy accident. Andrew was testing a standard—i.e., tomato-based—puttanesca recipe for this book in which he added all the other elements (save the parsley) before the tomato. It looked and smelled gorgeous in the pan, so we tasted it and found it to be fantastic on its own, without the tomatoes.
To bring out the most flavor from these few ingredients, make sure to get your pan extremely hot before attempting to fry the capers and anchovies until they are brown and sizzling. Once the anchovies have dissolved and the capers are nicely crisp, add the garlic and chili flakes, letting them toast and the flavors develop. Really good olives add both some funkiness and some fruitiness, and parsley lends a nice herbal quality to the heady aromas.
Ingredients
1/2

cup

extra virgin olive oil, plus more for drizzling

8

anchovy fillets

1/4

cup

salt-packed capers, soaked, drained and rinsed

1

cup

pitted and sliced Nocellara or Cerignola olives

8

fat garlic cloves, smashed and peeled

1/2

teaspoon

chili flakes

1

pound

spaghetti

3/4

cup

chopped flat-leaf parsley

kosher salt
Directions
In a very large skillet (or a Dutch oven), warm 1/4 cup of the olive oil over medium-high heat until very hot. Add the anchovies and capers and cook, stirring occasionally, until nicely browned, about 3 minutes. Add the remaining 1/4 cup olive oil, the olives, garlic and chili flakes and cook until the garlic is golden, about 3 minutes. Add 2 tablespoons water to the pan. Remove from the heat.
In a large pot of well-salted boiling water, cook the pasta according to the package instructions until 2 minutes shy of al dente; drain.
Toss the spaghetti into the skillet with the caper-anchovy mixture. Cook over medium heat until the pasta is al dente, 1 to 2 minutes, adding additional water if the sauce seems dry. Toss in the parsley and season with salt to taste.
Divide the pasta among four individual serving plates or bowls and finish each with a drizzle of olive oil.
Chef's Note: While we say that good-quality ingredients are important all the time, in this recipe, they are critical. Mushy, bland supermarket Kalamata olives will just not cut it, and this is certainly a dish calling for top-shelf anchovies and salt-packed capers. If you pull out all the stops, this simple pasta will surprise you.
More Italian pasta recipes on Food Republic: