Spaghetti With Brussels Sprouts And Pancetta Cream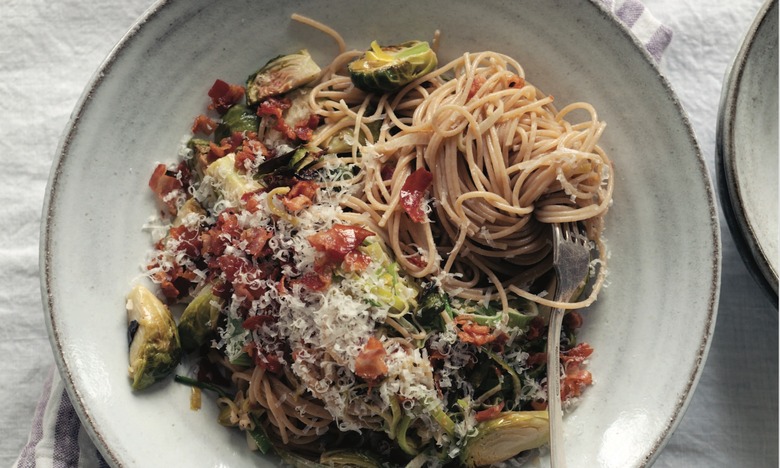 We may receive a commission on purchases made from links.
With all the diet-centric cookbooks out these days, can't we all just have a little fat and carbs and leave it all behind? Yes, we can! Grab a copy of food writer and blogger Andie Mitchell's Eating in the Middle and redefine what a balanced diet means. Besides, it's not a really good recipe if you're still hungry afterward, right? 
This quick spaghetti dish reminds me of spaghetti carbonara — noodles coated in a creamy sauce studded with salty pancetta pieces. But carbonara isn't exactly a healthy dish — and the challenge with all pasta dishes is keeping them light and the portion sizes reasonable. So for this recipe, I cut down the amount of pasta and bulked up the dish with roasted Brussels sprouts. The simple pancetta cream sauce is made with full-fat, full-flavor ingredients, so I kept the amount low — just enough for a really delicious meal.
Spaghetti With Brussels Sprouts And Pancetta Cream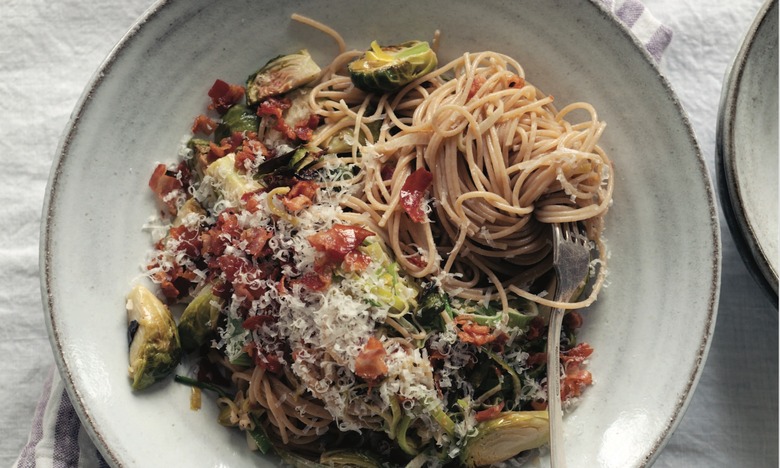 Ingredients
About 4 cups brussels sprouts
2 teaspoons extra-virgin olive oil
1/2 teaspoon salt
1/2 cup pancetta
1 cup dry whole-wheat spaghetti
2 medium leeks
1/4 teaspoon freshly ground black pepper
3 garlic cloves
1/2 cup half-and-half
1/4 cup low-sodium chicken broth
1/4 cup grated Parmesan cheese
Directions
Preheat the oven to 425°F.
On a large rimmed baking sheet, toss the Brussels sprouts and olive oil. Spread in a single layer, cut sides down, and season with ¼ teaspoon of the salt. Roast until browned and tender, 30 to 35 minutes. Set aside.
In a 12-inch nonstick skillet set over medium-high heat, cook the pancetta until browned and crispy, 6 to 8 minutes. Transfer to a small bowl. Return the skillet to the stovetop.
Meanwhile, cook the pasta according to the package directions. Drain.
To the drippings in the pancetta skillet, add the leeks, the remaining ¼ teaspoon salt, and the pepper. Cook, stirring frequently, until the leeks begin to soften, 2 to 3 minutes. Add the garlic and cook, stirring constantly, until fragrant, about 30 seconds. Reduce the heat to low, add the half-and-half and chicken broth, and cook for 2 minutes. Add the spaghetti, pancetta, and Brussels sprouts, and toss to coat in the sauce. Stir in the Parmesan cheese.
Divide the pasta among 4 plates and serve immediately.