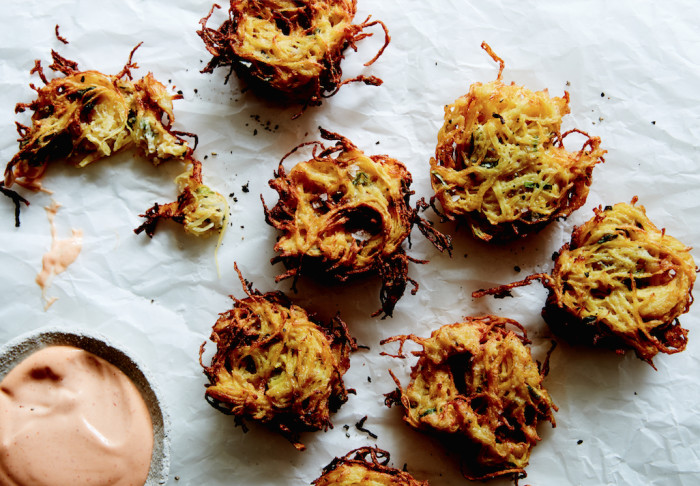 Everyone needs as many great vegetable cookbooks as they can find in their kitchen library. The Vegetable, a collaboration between Brooklyn- and Australian-based recipe developers and food stylists Caroline Griffiths and Vicki Valsamis, is one of the essentials. If you're looking for a trusty cache of go-to vegetable dishes, this is a must-buy. Ever fried up spaghetti squash patties? No time like the present!
Baking spaghetti squash magically turns the firm yellow flesh into spaghetti-like ribbons or strands, which make a great pasta alternative whenever you'd like a lower-carb meal. Deep-frying the squash strands makes for an incredible-looking patty, highlighting all the glorious 'spaghetti' strands and giving a great amount of crunch. If you are opting for a healthier approach, shallow-frying works well too, although the crunch won't be quite as pronounced. –VV
Ingredients
1

medium spaghetti squash (about 3 pounds 5 ounces)

2/3

cup

Kewpie mayonnaise

2

tablespoons

sriracha or other hot sauce

1

tablespoon

extra-virgin olive oil

2

spring onions, finely sliced

1

green chili, deseeded and finely chopped

2

tablespoons

finely chopped ginger

1

teaspoon

ground cumin

3/4

teaspoon

ground coriander

2

large free-range eggs, lightly beaten

1/4

cup

all-purpose flour

vegetable oil for deep-frying
Directions
For the patties
Preheat the oven to 350°F (fan-forced). Line a baking tray with baking paper.

Cut the spaghetti squash in half lengthways and using a spoon, scrape out and discard all the seeds.

Place the squash halves, cut side down, onto the tray. Bake for 30 minutes, or until a skewer passes through the squash easily. Remove from the oven and allow to cool.

Using a fork, tease out the squash flesh to create the spaghetti strands, then transfer to a large mixing bowl.

In a small bowl, combine the mayonnaise and sriracha, mixing thoroughly with a spoon. Set aside.

Heat the olive oil in a small frying pan over medium heat. Add the spring onion, chilli and ginger and sauté for 5 minutes, or until soft. Stir in the cumin and coriander and cook for a further 1 minute.

Add the mixture to the squash, along with the eggs and flour. Season with salt and freshly ground black pepper and gently mix together using a spoon. Pour 1¼ inches of vegetable oil into a medium-sized, heavy-based frying pan. Heat over medium heat until a cooking thermometer registers 350°F, or until a cube of bread turns golden brown in 15 seconds.

Heap two tablespoons of the mixture into your hand, then carefully lower into the oil using a slotted spoon. Repeat until the pan is full, but not overcrowded; you will need to work in several batches.

Cook for about 4 minutes, or until golden brown, turning the patties over halfway through cooking. Using a slotted spoon, transfer the patties to drain briefly on paper towel.

Serve warm, with the siracha mayonnaise.