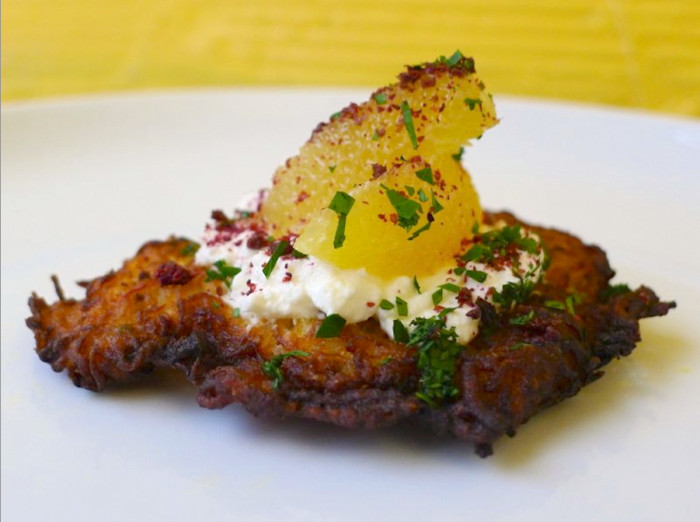 We had a blast at Monday's night's 5th Annual Latke Festival in NYC's Flatiron district. We liked it last year at BAM, too. Those were some great latkes. And since the holiday of crispy potatoes draws to a close tonight, we thought we'd share the recipe for one of our favorite pancakes at the party: Chef Liz Neumark of The Sylvia Center's seasonal spaghetti squash latke with creamy, tangy whipped feta and citrus.
Don't worry about the dehydrated olives if you can't find them (most likely) or don't feel like dehydrating olives (also likely). It'll be much better with them, but you can get by without 'em.
Ingredients
1

tablespoon

extra virgin olive oil

3

shallots, minced

2

small jalapeños, seeded and minced

1

teaspoon

Harissa

1

teaspoon

ground cumin

1

teaspoon

ground coriander

coarse salt and ground pepper

4

cups

roasted spaghetti squash, patted dry

2

cups

potato, peeled, coarse grated

3

large eggs, lightly beaten

1/4

cup

all-purpose flour, spooned and leveled

2

cups

Feta cheese, whipped til smooth in a stand mixer or food processor

2

tablespoons

dehydrated black olive, ground in coffee grinder

2

tablespoons

sumac

3

tablespoons

chopped parsley

2

cups

Grapeseed oil

20

citrus segments
Directions
In a large skillet, heat oil over medium-high. Add shallots, jalapenos and harissa, cook, stirring, until softened, 7 minutes.
Stir in cumin and coriander and cook until fragrant, 1 minute. Season with salt and pepper, let cool slightly, 5 minutes.
Transfer to a large bowl and stir in squash, potato, eggs and flour. Wipe out skillet, then add grapeseed oil until the pan is filled to 1/4-inch high; heat over medium. In batches, add batter in 1/4 cup to skillet and cook until pancakes are golden brown, 6 to 8 minutes, flipping halfway through.
Transfer pancakes to oven to keep warm; repeat with remaining batter.
Top with whipped feta, a sprinkle of olive, citrus segments, sumac and parsley.
Try out these latke recipes on Food Republic: