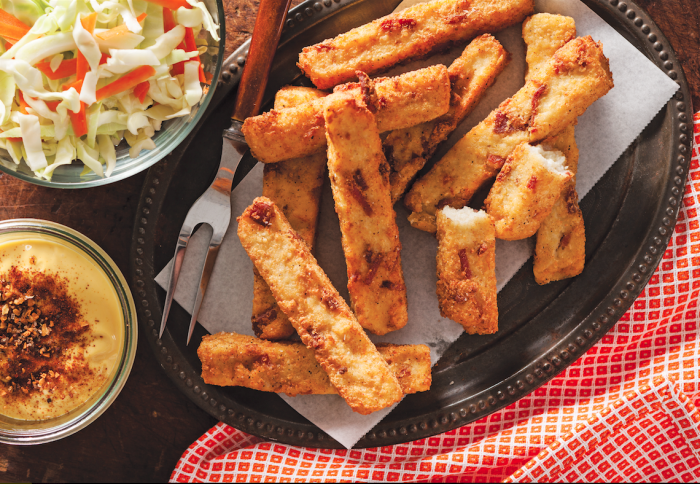 We're sinking our teeth into Southern food master and FR contributor Chris Chamberlain's spectacular new cookbok, The Southern Foodie's Guide To The Pig. Suffice it to say, this beloved cuisine is centered around one animal in particular: the one country ham comes from. Packed with facts, recipes and more important hog knowledge, this book is one every lover of ham, bacon, pork, hocks, face, ears, tail and the rest of the mighty pig should own. Did we mention how important country ham is? Let's show, rather than tell, with crispy, cheesy fried ham and grits.
Reprinted with permission from The Southern Foodie's Guide To The Pig
Ingredients
Gritters
8

- 12 center-cut slices

of country ham (12 ounces each)

12

cups

chicken stock

4

cups

heavy cream

1

tablespoon

kosher salt

5

cups

white stone-ground grits

3

cups

white cheddar cheese, grated

salt and freshly ground pepper to taste

vegetable oil for frying
Seasoned Flour
2

cups

all purpose flour

2

tablespoons

salt

1

tablespoon

black pepper

4

tablespoons

paprika

2

tablespoons

garlic powder
Directions
For the gritters:
Line 2 loaf pans with parchment paper.
Chop up the country ham slices into small cubes and place in a skillet over medium heat.
Cook for 3 to 4 minutes until cooked through.
Drain on a plate lined with paper towels and set aside.
Combine the chicken stock, cream and salt in a 6-quart pot and bring to a boil over medium heat.
Whisk in the grits and reduce to low heat.
Simmer, stirring occasionally so as not to scorch the grits, for about 30 minutes or until soft and thick.
Add the chopped country ham and white cheddar and stir to incorporate the cheese. Check and adjust seasoning.
Pour into the loaf pans and allow to cool in the refrigerator overnight uncovered.
When you are ready to serve, gently remove the grits from the pans and slice into 3/4-inch slices (as you would a loaf of bread), then into sticks (as you would French toast).
Preheat vegetable oil in a deep fryer to 350°F.
In a shallow bowl combine the flour, salt, pepper, paprika and garlic powder.
Dredge the gritter sticks through the seasoned flour and place in the deep fryer in small batches. Don't overcrowd the fryer or the temperature will drop.
Cook until crisp and golden, 4 to 5 minutes. Drain on a paper towel before serving.
Find more Southern food on Food Republic: