Sorrel Daiquiri Recipe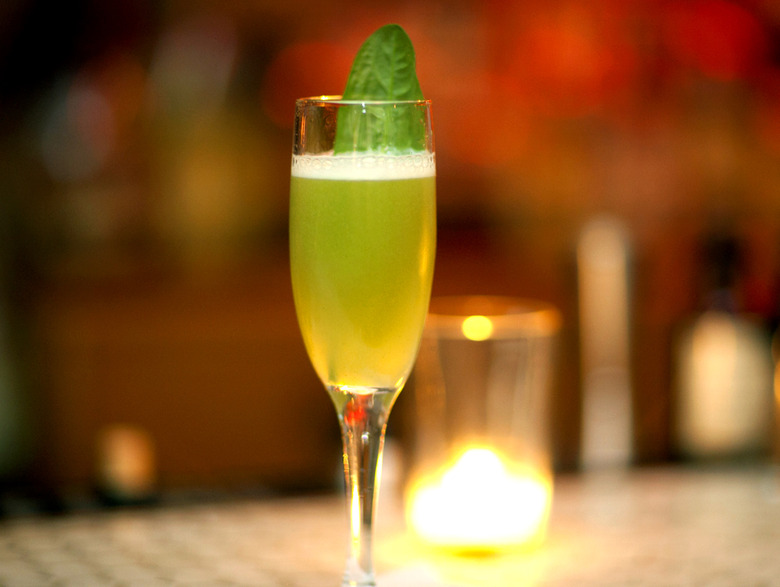 Sorrel Cocktail
Botanicals and alcohol have gone hand-in-hand for centuries, often in the form of infused liqueurs and administered for their "medicinal" properties. Experiencing fresh herbs in a cocktail, however, is not as often seen outside of a bartender's staple mint leaf garnish. With a large arsenal of seasonal garden herbs at her disposal, Brooklyn's Nissa Pierson, founder of the Ger-Nis Culinary and Herb Center, makes this her primary focus.
Having tested several techniques for integrating the power of herbs in cocktails, Nissa's mainstay for preserving an herb's flavor in syrup form has been to take a pre-made simple syrup (with a little added lemon zest), and then create a maceration with the herb in a blender — which is then strained thoroughly before use in the cocktail.
This method allows for a raw infusion, keeping the bright aroma and vibrant green color in the drink. Boiling herbs with the simple syrup (as one often does to make ginger or fruit-based syrups), she explains, can work well with heartier herbs, such as rosemary, thyme and lemongrass.
While an obvious and simple process, it's amazing that a wider variety of obscure herbs have not popped up in cocktails more often. Though the syrups can have a short shelf-life, using fresh herbs in cocktails can be a simple way to create new flavors through experimenting with the best combinations of herbs with base spirits, citrus and other modifiers.
I recently tried this daiquiri variation by Zachary Sharaga (at NYC's Louis 649 bar), in which he used a sorrel syrup, created by Nissa, to enhance this classic drink. I'll likely be blending up whatever herbs I can get my hands on this summer.
Sorrel Daiquiri Recipe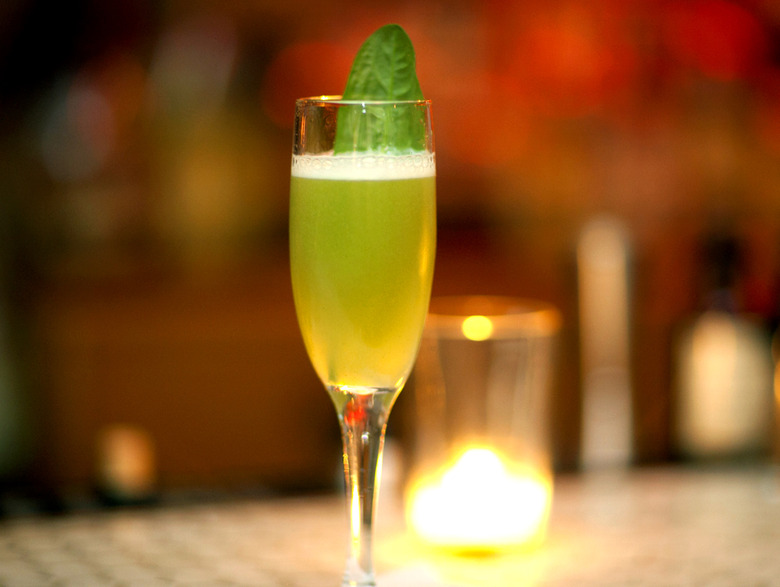 Ingredients
2 ounces white rum
1 ounce fresh squeezed lime juice
1 ounce fresh sorrel simple syrup*
Directions
Combine ingredients and shake vigorously with ice for about 10 seconds.
Strain into chilled flute glass. Garnish with a blade of sorrel vertically into flute. 
 Combine 1 cup of water, 1 cup of sugar and 1 teaspoon of lemon zest  in a medium saucepan and bring to a boil.
Reduce the temperature to low and simmer for about 5 minutes.  Allow the mixture to cool, and then add 1 handful of fresh sorrel (about 10-12 leaves-leaves only, no stems). 
Blend the mixture in a blender until ultra smooth and strain through a fine mesh strainer or cheese cloth. Use immediately in order to keep the bright green color.