Solid Salads: Fried Halloumi And Avocado Salad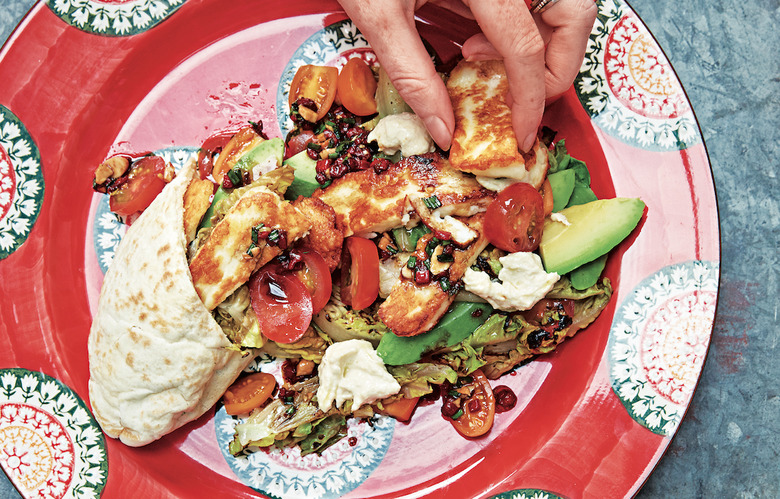 We may receive a commission on purchases made from links.
The most popular new book about salad and only salad comes from British restaurateur John Vincent and food writer Jane Vincent. Leon Happy Salads brings the recipes from the beloved London produce palace straight to your kitchen. Remember: A boring salad is not a happy salad.  
Fried cheese doesn't really need an introduction. You know you'll like it. Serve as a salad or stuff in a pita bread.
Solid Salads: Fried Halloumi And Avocado Salad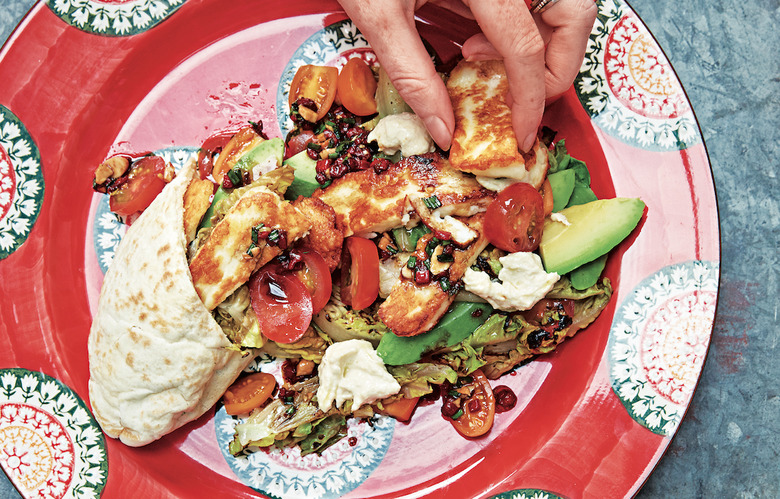 Ingredients
Scant 1/2 cup halloumi
1 tablespoon olive oil
Heaping 1/2 cup tomatoes
1 avocado
2 Little Gem lettuces
2 tablespoons hummus
Salt and freshly ground black pepper
2 pita breads
2 tablespoons almonds
1 piquillo pepper
1 tablespoon balsamic vinegar
3 tablespoons olive oil
1 tablespoon chopped fresh chives
1 teaspoon maple syrup
Directions
Slice the halloumi into pieces about ½ inch thick. Dry well with paper towel. Heat the oil in a nonstick pan and fry the halloumi slices for 2 minutes on each side until golden brown. Remove from the pan and drain on kitchen paper.
Slice the tomatoes and avocado. Cut the Little Gem into 6 wedges and griddle them until charred. Whisk together all the dressing ingredients and season well.
Arrange all the vegetables on a plate, and season well. Dollop the hummus around, and top with the halloumi pieces. Drizzle the dressing over the salad and serve with pita, if desired.