Soba Sushi Rolls Recipe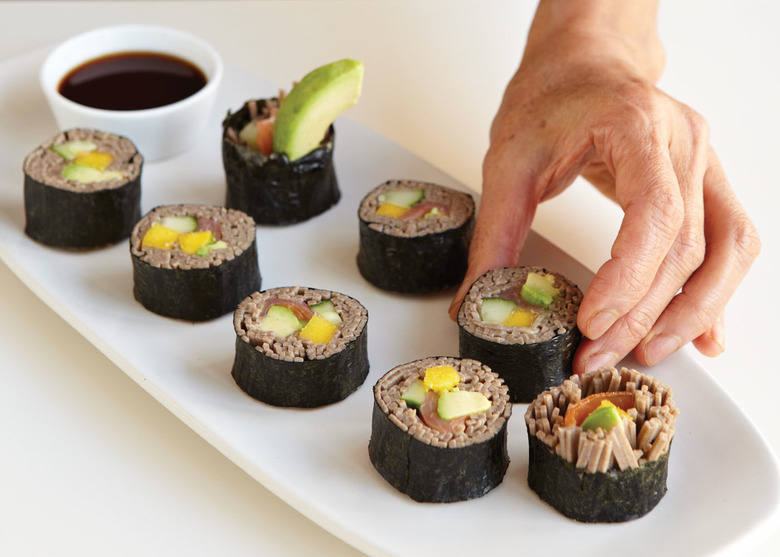 This fun roll is for those who have graduated from inside-out roll preparation and want to extend their sushi repertoire. To keep the soba noodles from becoming tangled, bind one end of the dry noodles together with a rubber band. After cooking, pull the bound end of the noodles from the hot water and you should find a bundle of straight, cooked soba. Drain the noodles well, and dry them with a paper towel to remove excess water before laying them on top of the nori sheet.
Nori sheets lose their shape easily even with a tiny drop of water. Soba noodles are not as sticky as sushi rice, so make a tight roll when rolling. Be sure to read about noodle cooking techniques in Hiroko's American Kitchen.
Soba Sushi Rolls Recipe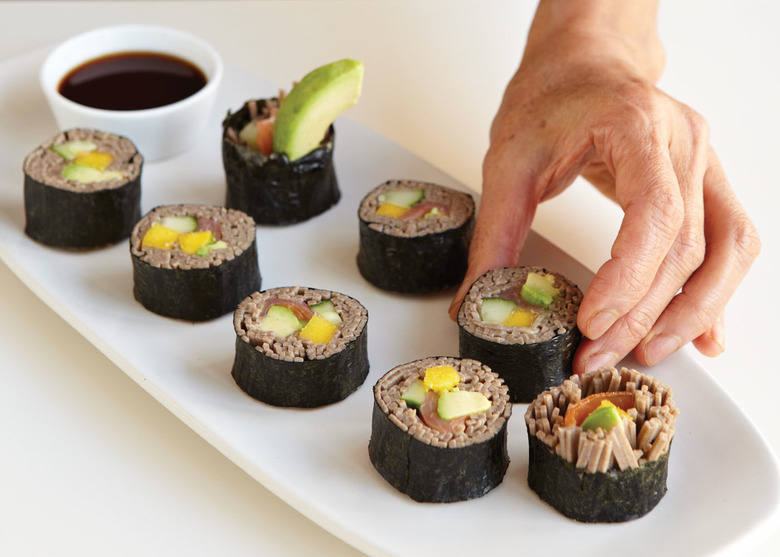 Ingredients
9 ounces dried soba noodles
1 medium mango
1 medium Kirby cucumber
1/2 medium avocado
3 ounces smoked salmon
4 sheets nori seaweed
1/4 cup cold noodle sauce
Directions
Bring a large pot of water to a boil over high heat.
Divide the soba noodles into 4 portions and bind one end of each together with a rubber band, being careful not to break the noodles.
Add the noodles to the pot of boiling water and, using chopsticks, quickly separate the noodles to prevent them from sticking together.
Cook the noodles over medium heat as instructed on the package. 
Drain the cooked noodles in a colander with the rubber bands still in place.
Rinse the noodles under cold tap water until they are no longer starchy.
Drain them well and pat dry with a paper towel. Set aside.
Peel, pit and cut the mango into 1/2 by 3 1/2-inch sticks. Cut off the ends of the cucumber and cut it (skin on) into 1/2 by 3 1/2-inch sticks.
Cut the avocado into 8 strips.
Stack the smoked salmon and cut it into 1-inch-wide strips.
Place a bamboo rolling mat on your work surface. Place one of the nori sheets on top of the rolling mat, positioning it so that the edge of the nori sheet is at the edge of the rolling mat nearest you. Pick up one bundle of cooked noodles and place it at the near edge of the nori sheet with the tied end protruding from the right side.
Cut off the tied end of the noodles and discard. Spread the noodles up and down the sheet until two-thirds of the sheet is covered, leaving the top uncovered.
Place 2 sticks of the avocado across the end of the nori sheet closest to you. Place 3 sticks of mango next to the avocado. Follow the mango with the 3 sticks of cucumber and one-quarter of the smoked salmon. Roll the nori sheet tightly around the soba noodles and stuffing. Make the other three rolls.
Cut each roll into 8 pieces. Serve with cold noodle sauce for dipping.
Yakko Tofu Bites Recipe
Soba Noodle Salad With Spring Vegetables
Wasabi Flank Steak Recipe