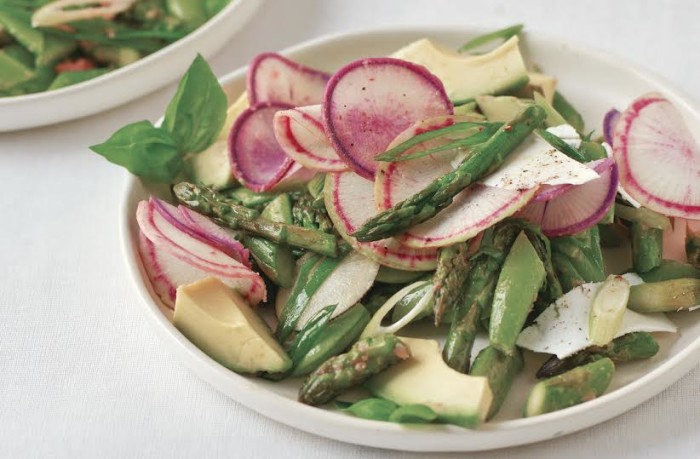 If the only thing keeping you from eating more vegetables in interesting ways is not owning chef and former Eataly vegetable butcher Cara Mangini's new cookbook, you're in luck — it's out and it's awesome. Fresh produce is front and center in this inventive collection of recipes, so pick up a chef's knife and get chopping.

Radishes make a spicy and radiant, almost fluorescent pink vinaigrette that leaves me pretty much in awe of nature every time I make it. That color, combined with varying hues of bright green thanks to snap peas, asparagus, avocado, and torn basil, makes this salad absolutely gorgeous. It is fresh and light — perfect for one of spring's warm days or nights.

If you are not planning to serve all the salad at once, add avocado only to the portions you serve. Without the avocado, the salad will keep in an airtight container in the refrigerator for up to 3 days.
Ingredients
1

bunch

asparagus, tough ends snapped off, cut on a diagonal into 1-inch lengths, tips kept intact

1

tablespoon

extra-virgin olive oil

1/4

teaspoon

fine sea salt, plus extra as needed

1/8

teaspoon

freshly ground pepper, plus extra as needed

1/2

pound

sugar snap peas, stem ends removed, sliced crosswise on a diagonal into thirds

2

scallions, thinly sliced

3

radishes, thinly sliced on a mandoline

1

avocado, pitted and diced

1/2

cup

torn fresh basil leaves (or 1/4 cup finely sliced mint leaves)

1/2

cup (about 2 ounces)

freshly shaved or crumbled ricotta salata or feta cheese, plus extra as needed
Radish vinaigrette (makes about 1 cup)
1

cup

red radishes (5 or 6 radishes), trimmed and halved

2

tablespoons

red wine vinegar

2

tablespoons

extra-virgin olive oil

2

teaspoons

honey

1/2

teaspoon

Dijon mustard

1/4

teaspoon

fine sea salt, plus extra as needed

1/8

teaspoon

freshly ground black pepper, plus extra as needed
Directions
For the vinaigrette
Combine the radishes, vinegar, oil, honey, mustard, the ¼ teaspoon of salt, and the ¹/₈ teaspoon of pepper in a food processor and process until the ingredients are incorporated but not completely smooth: The radishes should still maintain a coarse texture. This can be made up to 1 day in advance. Refrigerate in an airtight container.
For the salad
Preheat the oven to 400°F. Line a rimmed baking sheet with parchment paper.

Place the asparagus in a large bowl and toss with the oil, the ¼ teaspoon of salt, and the ¹/₈ teaspoon of pepper. Spread out the asparagus on the prepared baking sheet (reserve the bowl) and roast until it is golden and tender but still crisp, about 8 minutes.

Transfer the warm asparagus back to the bowl; add the snap peas, scallions, three quarters of the radishes, and half of the vinaigrette, and toss to combine. Toss in the avocado, basil, and cheese and add more vinaigrette, salt, and pepper to taste. Top the salad with additional cheese and the remaining radishes.