Snack Attack: Turkey Bacon BLT Avocado Sliders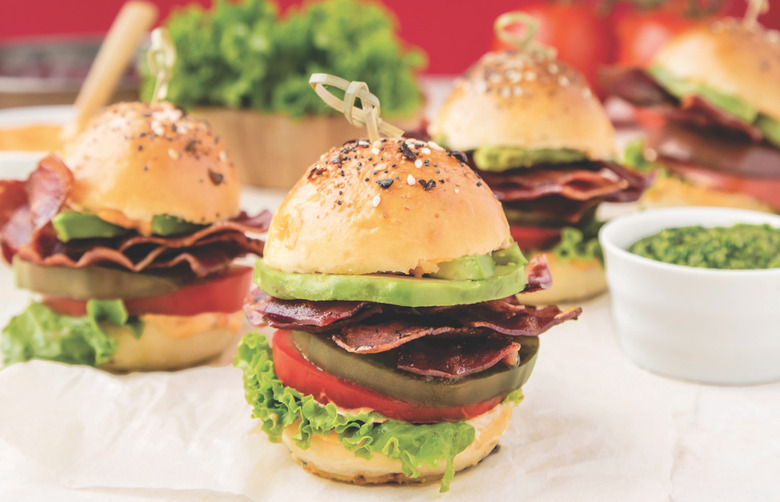 We may receive a commission on purchases made from links.
When it comes to finger food, it's hard to beat the slider. A tiny, perfect version of the sandwich you'd eat as a full meal is just about the best culinary blank canvas we can imagine, so naturally, we're snacking our way through photographer and recipe developer Jonathan Melendez's new cookbook. Grab The Slider Effect and a pack of Hawaiian sweet rolls — it's party time.
Turkey bacon is the unsung hero of bacon. It's the distant cousin no one really talks about, but they still secretly eat it. Eat the bacon, not the cousin, because that would be weird and creepy. Bacon is bacon, after all, and who can resist? Here, it's turkey bacon's time to shine. Pile it high between bread with tomatoes, avocado, and pesto for a healthier take on a classic BLT. Of course, if this still doesn't convince you or make a believer out of you, then regular bacon will work just fine in this recipe.
Snack Attack: Turkey Bacon BLT Avocado Sliders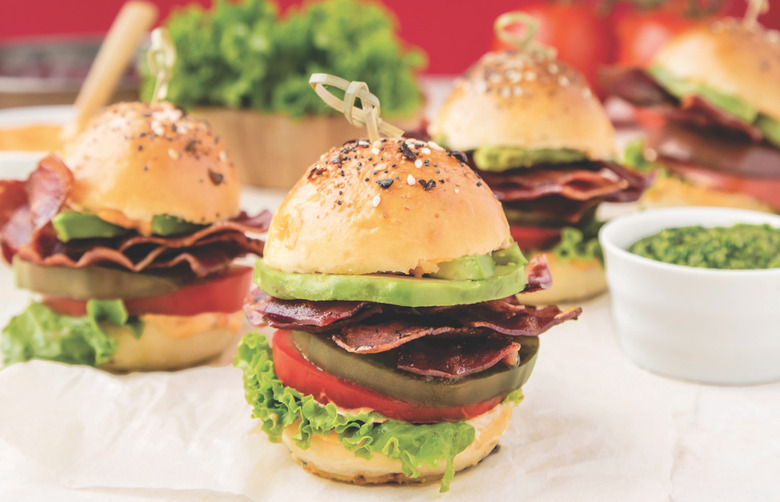 Ingredients
2 6-ounce packages turkey bacon
12 Store-bought dinner rolls
Sriracha Aioli
Arugula Pumpkin Seed Pesto
6 green lettuce leaves
4 to 6 medium heirloom tomatoes
2 ripe large avocadoes
1 to 2 tablespoons Sriracha (depending on how hot you like it)
3 garlic cloves
1 large egg
1 tablespoon fresh lemon juice
1 tablespoon Dijon mustard
1 cup canola oil
1/2 teaspoon kosher salt
1/4 teaspoon coarsely ground black pepper
2 cups packed fresh baby arugula
2 small garlic cloves
2 tablespoons pumpkin seeds
1/4 cup grated Parmesan cheese
1 teaspoon finely grated lemon zest
1 tablespoon fresh lemon juice
1/2 cup extra-virgin olive oil
Pinch kosher salt
Few grinds fresh black pepper
Directions
:::aioli:::
Place the garlic, egg, lemon and mustard in a blender. Blend until just combined. With the machine running on high, slowly stream in the oil and blend until incorporated and the mixture has thickened. Season with salt and pepper and pulse once more. Add the Sriracha and blend until combined.
Transfer to a bowl or jar and chill, covered tightly, until ready to use. Will keep in refrigerator for up to 2 weeks.
:::pesto:::
Place the arugula, garlic, pumpkin seeds, Parmesan and lemon zest and juice in a food processor and pulse a few times until roughly chopped. Use a rubber spatula to scrape down the sides and bottom of the bowl between pulses, to ensure that everything is evenly chopped.
With the machine running, slowly drizzle in the olive oil in a steady stream. Process for about 30 seconds. Season with salt and pepper and pulse once more. Give the pesto a taste and adjust the seasonings if needed. Transfer to an airtight container and store in the fridge until ready to use. Can be kept, chilled, for up to 4 days.
:::sliders:::
Place a few slices of the bacon in an unheated skillet. Cook over medium heat 9 to 11 minutes, turning often, until crispy. Transfer to a plate lined with paper towels to drain off excess grease, and continue cooking the rest of the bacon.
To assemble the sliders, cut the buns in half and spread each half with aioli and pesto.
Cover the bottom half of the buns with lettuce, a few tomato slices, avocado, and bacon.
Replace the top half of the buns, and skewer with a long toothpick to hold in place. Serve immediately or at room temperature.