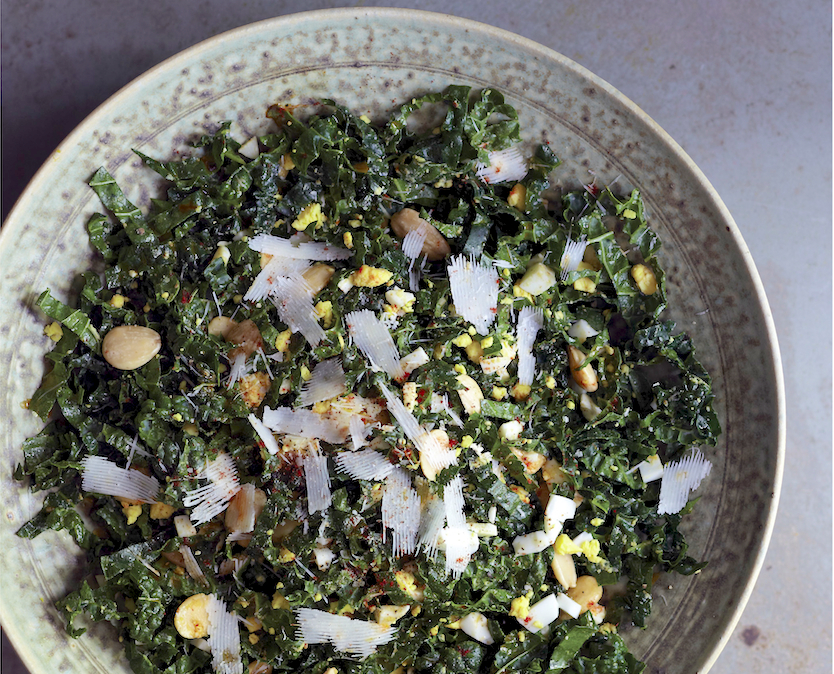 Calling the world's healthiest vegetables! Oh here they are, in author Laura B. Russell's new cookbook, Brassicas: Cooking The World's Healthiest Vegetables. Fans of broccoli, cauliflowers, Brussels sprouts, and yes, of course our darling kale should be very excited. First up, a hearty kale salad that will leave you entirely satisfied. Guaranteed.
Over the past few years, raw kale salads have become one of my favorite foods, making it difficult to narrow down which recipes to share. One reason I like them so much is because they take well to all kinds of tasty additions, such as fruits (grapes, dates, figs, pomegranate seeds), nuts (pine nuts, walnuts, almonds, pecans), diced avocado, roasted bell pepper, and aged or salty cheese (goat, feta, Parmesan, pecorino).
This salad is particularly straightforward: thinly sliced kale is combined with a Spanish-inspired dressing made from smoked paprika and sherry vinegar and then garnished with chopped egg and toasted almonds. Serve it alone as a simple lunch, or offer it as a side dish to skewers of garlicky grilled shrimp for supper. For an added, albeit expensive, Spanish touch, use Marcona almonds.
Ingredients
2

large

eggs

kosher salt

1

large bunch

kale (12 to 14 ounces), center ribs and tough stems removed, leaves finely shredded

1

tablespoon

sherry vinegar

1/2

teaspoon

smoked paprika

1/4

teaspoon

freshly ground black pepper

3

tablespoons

olive oil

1/3

cup

almonds, sliced and toasted (see recipe for instructions)
Directions
For toasted almonds:
Put the nuts in a small frying pan and toast them over medium-low heat, stirring frequently, for 5 to 10 minutes, until golden brown and fragrant.
Or, spread them on a rimmed baking sheet and toast them in a 350°F oven for 5 to 10 minutes.
Either way, keep a close eye on the nuts to make sure they don't burn. Toasted nuts will keep in an airtight container at room temperature for several days.
For the salad:
Put the eggs in a small saucepan with cold water to cover.
Place over medium-high heat and bring to a boil.
Remove the pan from the heat, cover, and let stand for 10 minutes.
Drain the eggs and then peel them. (You can cook the eggs a day ahead. Keep them covered in the refrigerator.)
Chop the hard-boiled eggs into small pieces and toss them with a large pinch of salt.
Put the kale in a salad bowl.
In a small bowl, whisk together the vinegar, smoked paprika, 1/4 teaspoon salt and the pepper.
Add the oil and whisk to combine.
Drizzle the dressing over the kale, then, using your fingertips or tongs, toss together the kale and dressing.
Spend a few minutes thoroughly working the dressing into the leaves. (At this point, you can cover and refrigerate the salad for up to 4 hours before serving.)
Add the almonds and eggs and toss once more.
Taste and adjust the seasoning with salt and pepper if needed, then serve.
Find more kale salads on Food Republic: